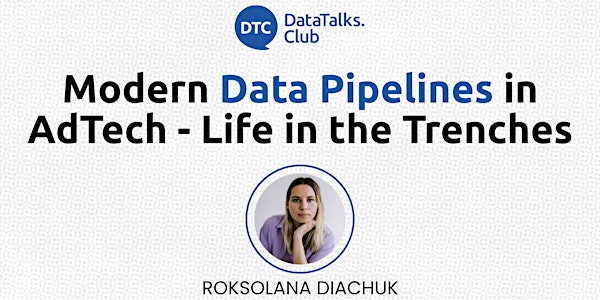 Modern Data Pipelines in AdTech - Life in the Trenches
Usage of Modern Data Pipelines in AdTech, implementation details and challenges - Roksolana Diachuk
About this event
Outline:
There are various tasks that the modern data pipelines approach helps us solve in different domains, including advertising. Modern data pipelines allow us to process data in a more efficient manner with a diverse set of data transformation tools for both batch and streaming data processing. AdTech is a traditional industry that constantly changes and innovates. Today, it draws a lot of attention as we're expanding the reach and movement toward a cookieless world.
In this talk, you will learn how to use modern data pipelines for reporting and analytics, as well as the case of historical data reprocessing in AdTech. We'll dive deeper into each case, exploring the problem itself, implementation, challenges, and future improvements.
About the speaker:
Roksolana works as a Big Data Engineer at Captify. She is a speaker at technical conferences and meetups, and one of the Women Who Code Kyiv leads. She is passionate about Big Data, Scala, and Kubernetes. Her hobbies include building technical topics around fairytales and discovering new cities.
DataTalks.Club is the place to talk about data. Join our slack community!