Description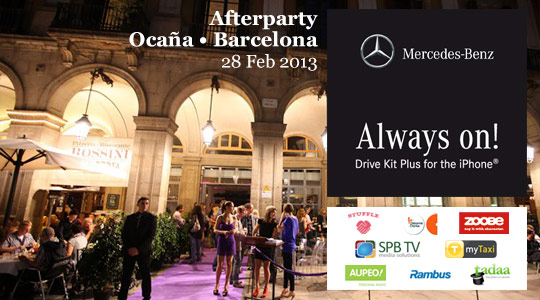 Hola everybody!

We are planning the biggest bash ever in Barcelona during Mobile World Congress 2013.

Join us at Ocaña, just voted Barcelona's No. 1 bar and club, located in the most beautiful plazas of Barcelona: Plaza Reial at Ramblas.

We expect a sold out club. There is space to meet, mingle and dance in a hot basement with a curious link to Berlin club connection. Sponsors are inviting you for free drinks.

Registration: become a fan on facebook and get your registration code.

https://www.facebook.com/mlovesociety

Hasta luego!

MLOVE
Organiser of MLOVE Party at MWC 13
THE MLOVE CONFESTIVAL CEMENTED ITS REPUTATION AS 'A TED FOR MOBILE' BY SPOILING ATTENDEES WITH THREE DAYS OF INSPIRATIONAL TALKS AND WORKSHOPS!- Contagious Magazine -
Though the backdrop is mobile, the goal is to stimulate new ideas and thinking which you can apply to your life, your business and to inspire others.
The MLOVE ConFestival brings together CEOs, innovators and entrepreneurs from across multiple disciplines to share, learn and cross-pollinate ideas with an array of scientists, artists and other thought leaders. The event exposes the mobile industry to the best minds outside of mobile to maximize the opportunity of creating life-changing services and applications that can impact us all for the better.
Celebrating its 5th anniversary ConFestival, this year we are especially exploring meaning in our lifestyle of mobility.
"The Best Event in Mobile" – WIRED