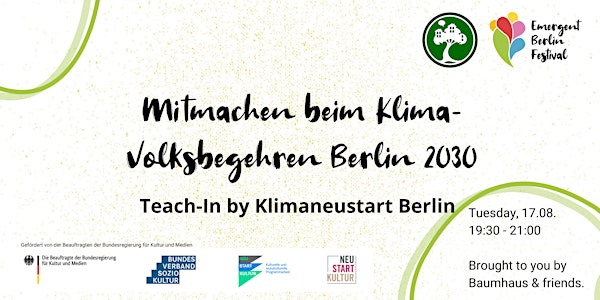 Mitmachen beim Klima-Volksbegehren Berlin 2030 | Emergent Berlin Festival
Learn how to get involved at Klimaneustart Berlin!
When and where
Location
Panke Culture Gerichtstraße 23 #Hof V 13347 Berlin Germany
About this event
About this Workshop
Volksbegehren sind ein Mittel der direkten Demokratie, d.h. so kann direkt an der Gesetzgebung mitgewirkt werden. Die Berliner Bürgerinitiative "Klimaneustart Berlin" hat jetzt mit einem breiten Bündnis das Volksbegehren "Berlin 2030" gestartet - mit dem Ziel, Berlin bis 2030 klimaneutral zu machen. Oder genauer: das Berliner Energiewendegesetz dementsprechend zu ändern. Aktuell gilt für das Land Berlin das Ziel, die Stadt bis 2050 klimaneutral zu gestalten. Das reicht natürlich bei Weitem nicht aus, wenn Berlin einen "fairen" Beitrag zum Klimaschutz leisten soll. Als erste Etappe des Volksbegehrens geht es jetzt darum, mindestens 20.000 Unterschriften zu sammeln...
Wie funktioniert ein Volksbegehren? Wie geht das Bündnis vor? Was ist konkret zu tun? Und vor allem: Wie können wir mitmachen und am besten unterstützen? Ein Teach-In mit Anne Nemack von Klimaneustart Berlin.
About Anne
Anne works for the Independent Institute for Environmental Issues examining civil society participation in climate politics. She burns for different forms of engagement and transformative education as a means to achieving that great big social shift towards a sustainable future that is needed. She is also part of the Kipppunkt Kollektiv giving workshops on climate justice issues to a variety of people ranging from young people to company employees. As an activist of Klimaneustart Berlin she was involved to achieve a Citizen's Assembly on Climate for Berlin and is currently working on a Volksbegehren for carbon neutrality in the city.
"BE the solution."
About Emergent Berlin 2021 | An event series by and for local projects.
Every Tuesday night in the second half of 2021, this year's EMB provides a platform for people and places to reconnect, reflect on and share our collective and individual experiences and strategies.
Theme 2021: "Rising to meet the crises." As we gradually emerge from the pandemic in Berlin, the climate catastrophe is knocking at our doorstep. We need to act with a sense of urgency. We invite fellow social-ecological projects and people who want to take action to reconnect, reflect on and share our collective and individual experiences and strategies. Where are we at? What can we learn from the pandemic? How can we step up to the evermore urgent climate and sustainability crises now?
Each month, we shift our focus on another aspect of taking action for transformation: personal, ecological, aesthetic, cultural, economic and social.
Month #1 July: Local Projects & Personal Sustainability
Month #2 August: Local Projects & Ecological Sustainability
Month #3 September: Local Projects & Aesthetic Sustainability
Month #4 October: Local Projects & Cultural Sustainability
Month #5 November: Local Projects & Economic Sustainability
Month #6 December: Local Projects & Social Sustainability
As always, Emergent Berlin Festival is brought to you by Baumhaus & friends. If you have trouble finding us, call Karen: 0176-7856-6593
Website: www.emergentberlin2021.de
IG: @baumhausberlin