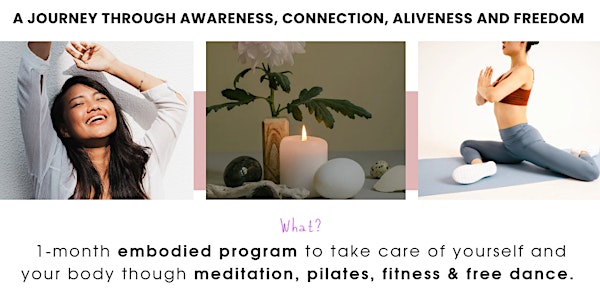 Mindful Movement for Mamas
1-month embodied online program in English to take care of yourself and your body through meditation, pilates, fitness and free dance.
By Betty and Ramona - Mind-Body Coaching
Date and time
Monday, February 13 · 10:30 - 11:30am PST
Refund Policy
Refunds up to 1 day before event
About this event
What?
1-month embodied program in English to take care of yourself and your body though meditation, pilates, fitness & free dance.
Week 1: February 13th
Awareness - Meditation and Gentle Movement by Betty
Through guided meditation and gentle yoga poses, we will bring our awareness to the present moment and how we feel in our bodies.
Week 2: February 20th
Connection - Pilates inspired flow by Ramona
A no-impact Pilates flow, that brings energy and heat to your body and mind
Week 3: February 27th
Aliveness - High intensity fun by Ramona
This class will get your heart rate up without putting any strain on your body. It's a safe, fun and upbeat session that lets your endorphins go crazy.
Week 4: March 6th
Freedom - Free dance by Betty
Through free dancing, we will liberate ourselves from blockages or tensions and let go of expectations and performance to purely enjoy ourselves to the sound of music.
For whom?
Every mother from 12 weeks postpartum
When?
Every Monday from 19:30 - 20:30 between February 13th to March 6th (4 sessions).
How?
Online via Zoom.
Feel free to join with or without your baby.
Why?
As women, our bodies really go through enormous change and transformation throughout pregnancy, birth and postpartum.
And often in the postpartum phase, we don't take the time to take care of our own bodies - its healing, its movement, its aliveness.
Although our body is the vessel of our health - mental, emotional and relational.
That is why we offer this program as an embodied experience for women to take care of themselves and their bodies through 4 online sessions of movement.
DETAILS
Hosted by Ramona, certified pre-/postnatal fitness professional and Betty, certified life coach with a somatic and mindfulness focus.
Price: 80€ for 4 sessions