Online training for Mindful Leadership offered by WEVOLVE.
Zu diesem Event
MINDFUL LEADERSHIP TRAINING
Our Mindful Leadership training has supported teams at various companies, including Zalando, eBay and Mercedes Benz, to enhance their capabilities of mindful self-leadership and empathic co-creation. For the first time, we are offering this training as a public program for individuals interested in a journey of personal and professional development.

YOUR LEARNING JOURNEY
Our virtual program consists of an Intensive Training (4x2,5h) as well as a six-week Integration Phase (6x1,5h). It will be held by two experienced trainers from WEVOLVE (see below). In addition to the live sessions via Zoom, your individual learning journey includes daily practices, journaling as well as a buddy group program. You will receive recordings, slides and handouts for your personal use.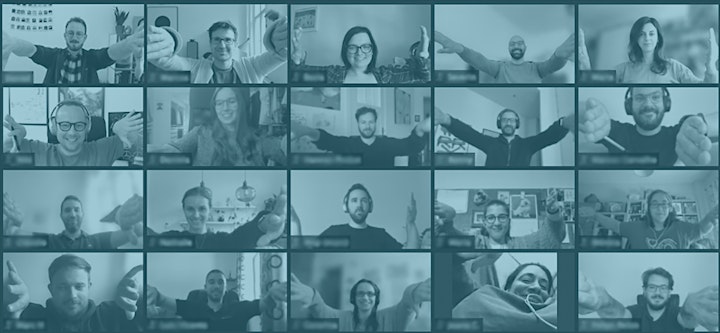 FROM SELF-LEADERSHIP TO CO-CREATION
Mindfulness: Learn theory and practice of mindfulness as well as the science behind it
Self-Awareness: Deepen your connection to your thoughts, emotion and physical sensations
Mindset: Become aware of how you see the world through your values and develop a growth mindset
Self-Leadership: Learn how to make conscious decisions instead of reacting from autopilot mode
Other-Awareness: Learning theory and practice of empathy and compassion to become aware of other persons feelings and perspectives
Culture: Understand the dynamics of cultures within teams and learn how to influence it
Co-Creation: Dive deeper into the challenges of communication and collaboration and learn effective tools for you and your team
WHAT CAN YOU EXPECT?
Over the last three years, we were able to evaluate and optimize the program with multiple cohorts across companies. Our latest evaluation showed impressive results:

"WEVOLVE offers an extremely effective and comprehensive program. I found it helpful beyond measure and would recommend it to anyone."
"The mindfulness sessions were an enrichment to my work-life balance. Especially during these times it helped me to stay focused but also to clear my mind after work."
"I'm thrilled to have had the opportunity to take part in the program. The material and techniques covered during the sessions have been highly beneficial and applicable to both my work and personal life."
WHO IS THIS TRAINING FOR?
This offering is tailored for leaders and professionals who want to further develop their skills and mindset. It is also relevant for HR and People & Culture as well as for coaches and trainers who want to deepen their understanding and practices.
DATES
We recommend to join at least 3 out of the 4 training sessions and 4 out of the 6 integration sessions. If you miss a session, you can watch the recording or read the slides.
Training: 26/27 October & 02/03 November from 5:00 to 8:00pm
Integration: 10/17/24 November & 01/08/15 December from 5:00 to 6:30pm
ANY QUESTIONS?
Please don't hesitate to contact us: connect@wevolve.company
YOUR TRAINERS
Because we believe in the flow of team-teaching, all sessions will be facilitated by two coaches. Lena Sievers and Dr. Nico Ronpagel look forward to guiding you on the journey.
Driven by a new narrative of wholehearted eco-centered organizations, Lena is passionate about people and their inherent potential. Looking through the lenses of systems thinking, mindfulness and somatics, she finds joy in observing and listening to whatever wants to emerge in a situation, thereby creating spaces in which people feel seen and safe to show-up as they truly are.
Integrating scientific knowledge and transformative practices, Nico is passionate about fresh pathways of connection, compassion and purpose in personal and collective growth. Equipped with a research-based understanding of the benefits of meditation combined with a daily meditation practice of almost 20 years, he has brought mindfulness to universities, museums, conferences and various professional environments.
More information on www.wevolve.company