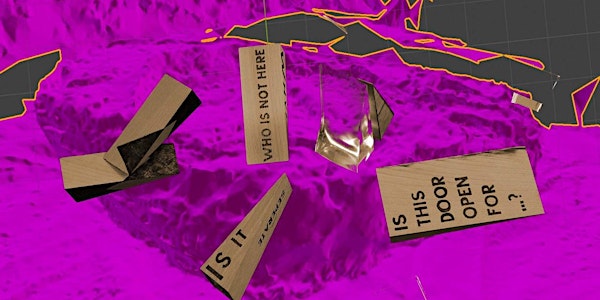 Meltionary: heat, encounter or another friction
​​Exhibition & Lecture. As MELT, Loren Britton and Isabel Paehr work on questions around melting, access, radical pedagogy and technology.
When and where
Location
KCAI Gallery 4415 Warwick Boulevard Kansas City, MO 64111
About this event
Meltionary: heat, encounter or another friction
Nov 11, 2021 - Feb 27, 2022
KCAI is pleased to present ...
MELT
As MELT, Loren Britton and Isabel Paehr are arts-design researchers who work with the potentials of heat, encounter and friction to set in motion transformative material-discursive processes. Boiling up insights from chemistry, crip technoscience and trans*feminism, they play with the methods of queer play, unlearning and leaking. Their work crumbles structures, unbounds materials, dissolves technology and makes collectivities. MELT is exploring how to make something but to keep it open to change, and is doing this through formats like video artworks, experiments with access, websites and workshops. MELT has been influenced by (melting) Ice, Freezers, Software, Signal, moving too fast/slow, Disability Justice, Digital Materialism, Decolonial thinking, Gifs, Climate Protests, Anti-Racism and Dancing.
The Meltionary
The Meltionary is a growing experimental directory that investigates different materials, metaphors and modes of melting. The term Meltionary is a linguistic play on the English word dictionary; based on dictionary entries, it consists of Meltries, each beginning with a letter. The Meltries are playful instructions to unnerve definitions, videos of melting processes, photo series of how materials witness change, reports on failure, experimental instructions for generating chemical reactions, circuits for DIY measuring devices, and theoretical-poetic texts.
During the Fall 2021 semester MELT is engaging with KCAI students and conducting a virtual artist-in-residence at KCAI. This is a project of the Center for Contemporary Practice program at the KCAI Gallery. Sean Nash is the faculty organizer with support from the following programs at KCAI: Social Practice, Product Design, Graphic Design and the Jannes Library.
Lecture
Join us for a lecture and discussion with MELT. Exact date and time TBD. Information and Register HERE.
ALSO ON VIEW in the FlexRoom:
BLOCK PARTY: THE ARCHIVE
An exhibition presented by the Black Student Union at KCAI
February 3 – March 6, 2022
NEW Public Hours!
Thursday noon - 5pm
Friday noon - 5pm
Saturday noon - 5pm
Sunday noon - 5pm
Other days by appointment, email kcaigallery@kcai.edu.
KCAI Gallery will be closed November 25-28. (Holiday)
KCAI Gallery will be closed December 9-January 23. (Winter Break)
Parking - Visitor parking for the KCAI Gallery is available in the main KCAI entrance parking lot at 4415 Warwick Blvd.
Gallery Accessibility - KCAI Gallery has wheelchair accessible parking in the KCAI South Lot, main entrance to KCAI Gallery and gender neutral & wheelchair accessible restrooms are located in the building lobby. For inquiries regarding accessibility please reach out to KCAI's Disability Services office: +1-816-802-3440 or email disabilityservices@kcai.edu.
Remote Viewing Access - Visitors can connect with the exhibition via video with gallery staff who will facilitate experiencing the exhibition. To schedule a remote viewing video please email kcaigallery@kcai.edu.
Art Accessibility - The video works in the exhibition have closed captions. They will also be available on a dedicated website for viewing from home. There are no flashing lights.
Social Media - Follow us on Facebook & Instagram. MELT is @meltionary on Instagram and @unstablematters on Twitter.
Masks - For your safety and ours, KCAI requires all individuals on campus to wear a mask during their visits. If you find yourself without one, the gallery has a limited supply for visitors.
Questions? - Please email us at kcaigallery@kcai.edu if you have questions or need to make special arrangements for your visit.
About the KCAI Gallery
Launched in 2016 in the Crossroads District and relocated into the Tony Jones Studios on main campus in 2020, the KCAI Gallery: Center for Contemporary Practice serves the mission of KCAI through collaborative, curriculum based engagements with students, faculty, community and artists in residence. Our new campus gallery presents curatorial outcomes of these engagements that include exhibitions, screenings, lectures, readings, and conversations. This site and related programs hold space for critical thought, reflection, and dialog about current issues and social challenges in our world.
About the Kansas City Art Institute
Founded in 1885, the Kansas City Art Institute is one of the oldest and most respected art and design colleges in the United States. Located at 4415 Warwick in Kansas City, Mo., KCAI is a premier private, fully accredited four-year college of art and design awarding the Bachelor of Fine Arts degree in 13 majors. KCAI's mission is to prepare students to transform the world creatively through art and design. Learn more at www.kcai.edu.
Image Description: MELT, On an uneven digital terrain made of rocky forms that are pink: wooden and resin wedges (doorstops) sit in upright and tilted positions. Some of the wedges have been burned to have words on them and they read "IS THIS DOOR OPEN FOR …?", "WHO IS NOT HERE", and "IS IT SEPARATE".
KCAI Gallery
4415 Warwick Blvd.
Kansas City, Missouri 64111
Hours: Thursday-Sunday, 12:00-5:00 p.m.