Description
medini™ analyze European User Conference 2017
Hosted by ANSYS medini Technologies AG
Location: AMANO Rooftop Conference, Rosenthaler Straße 63/64, 10119 Berlin Germany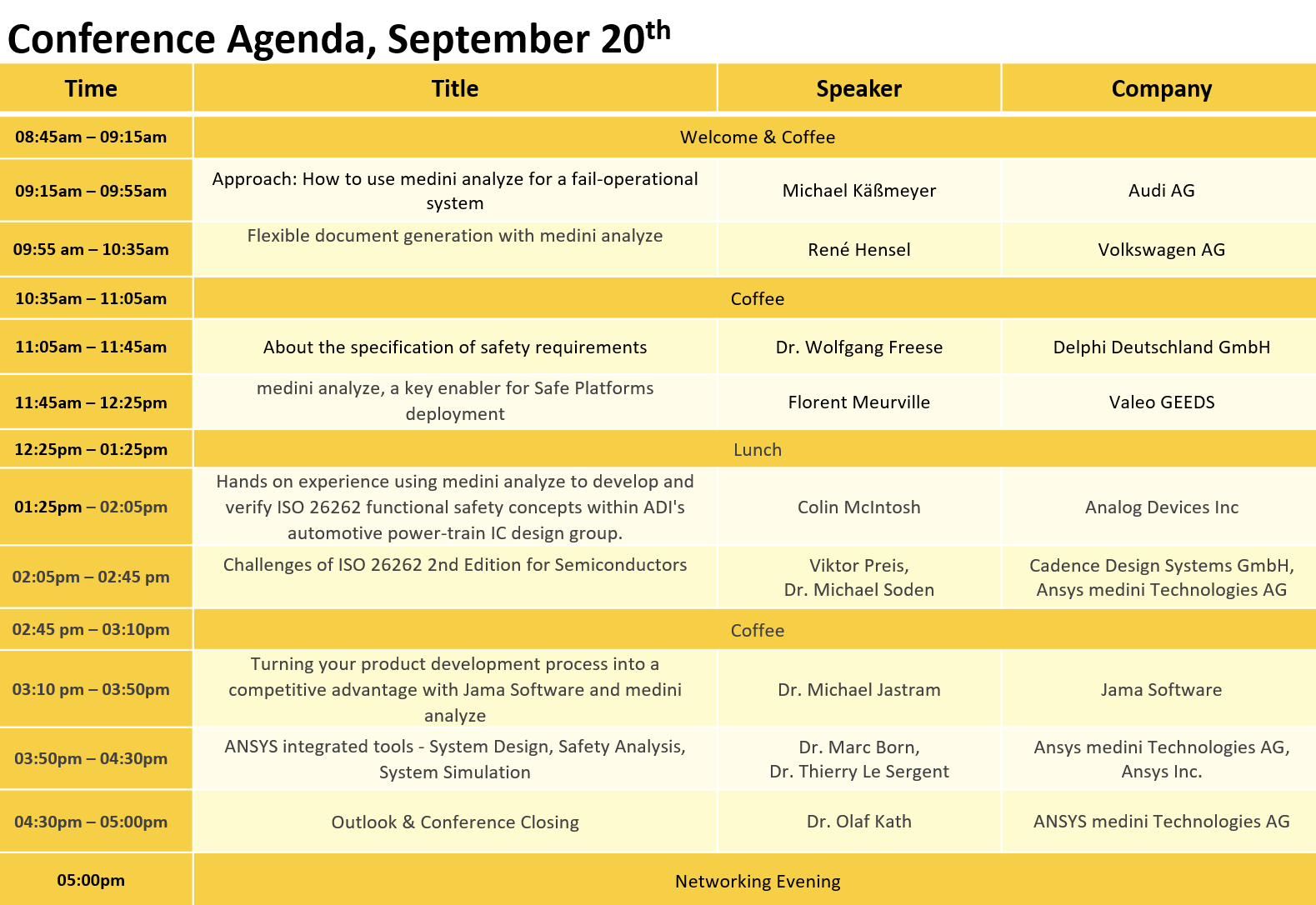 Conference Outline
Wednesday, September 20th, 2017 in Berlin
Presentations given by tool users from:
• Analog Devices International
• AUDI AG
• Cadence Design Systems, Inc.
• Delphi Deutschland GmbH
• JamaSoft
• Valeo Group Electronic Expertise and Development Services
• Volkswagen AG

Outlook:
New medini™ analyze products and features & extended medini™ analyze demonstration. ANSYS will add further topics about ISO 26262 2nd edition, Semiconductor support and talk about Model-based software development and simulation.
Workshop Outline
Thursday, September 21st, 2017 in Berlin
Location: Mövenpick Hotel Berlin, Schöneberger Straße 3, 10963 Berlin
You also have the chance to participate in either of two workshops.
In the beginners workshop you will learn how to use medini efficiently. It will be a hands-on workshop, where we will showcase the medini process to ISO26262. The workshop will be adapted to the needs of the attendees. For more information on the topics please see the agenda.
In the advanced workshop you will enhance your skills in the usage of medini analyze. It will focus on new features and ways how to use them, to make the most out of medini analyze. You will have the opportunity to raise your improvements requests and discuss them with the developers as well as the experts from other companies. After the workshop delegates will also receive a certificate.
Overall topics are:
Efficient model based PHA/HARA
Consistent FSC & TSC
Safety Verification with FMEDA & FTA
Participation Fees:
Conference only 100€
Workshop only 450€
Conference & Workshop 500€
Combination of medini User Conference Day & Interpid Delta Conference Day1 895€+100€ =995€
(must be booked separately)
Special Deal for our customers
In collaboration with Intrepid Delta attendees of the medini analyze Users Conference in Berlin can get a very special ticket offer for the parallel event: Operational Safe Systems for Automated Driving – From Functional Safety to System Safety
Ticket includes:
Invitation to kick-off session on Monday evening 18th September
Full-access to first day of conference, Tuesday 19th September, Kempinski Hotel Bristol, Berlin
Key-note presentations and case-studies from leading representatives of the automotive industry
Interactive round-table sessions
Networking lunch and dinner
Access to event documentation following the event
Presentations from: Audi, Adam Opel GmbH, Autoliv, Bombardier, Continental AG, Daimler AG, Delphi Deutschland GmbH, Magna Powertrain GmbH, Scania, ZF and many more
Please mention the code "medini" at the registration form of Interpid Delta.
If you have further question feel free to contact us at:
E-Mail: user-conference@ansys.com ; Phone: +49 (0)30 34 80 770