Description
edini™ analyze US User Conference

Hosted by ANSYS medini Technologies AG
Location: Automation Alley, 2675 Bellingham Drive, Troy, MI 48083-2044, United States
Conference Outline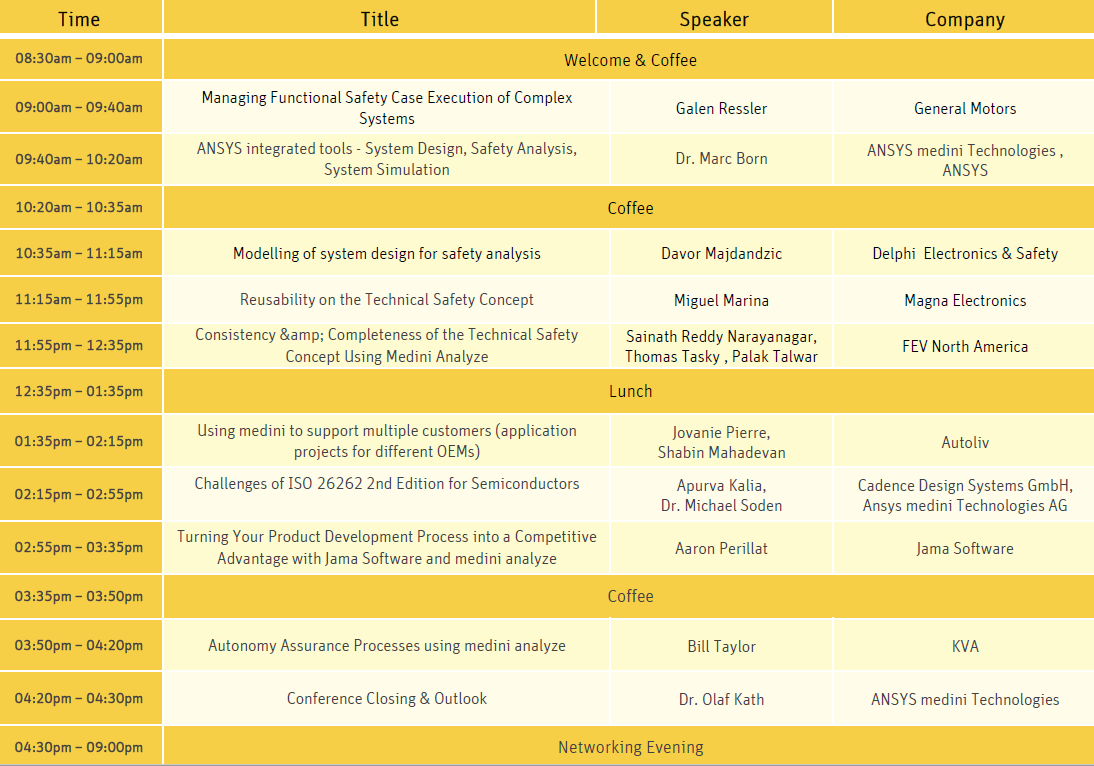 Thursday, October 19th, 2017 in Troy, Michigan
Presentations given by tool users from:
Delphi Electronics & Safety
FEV North America
General Motors
Jama Software
Lear Corporation
Magna Electronics Inc.
Cadence
Jama Software
KVA
Outlook: New medini™ analyze products and features & extended medini™ analyze demonstration. ANSYS will add further topics about ISO 26262 2nd edition, Semiconductor support and talk about Model-based software development and simulation. Also, ANSYS will host an additional session on the ADAS topic.
Workshop Outline
Wednesday, October 18th, 2017 in Troy, Michigan
You also have the chance to participate in either of two workshops.
In the beginners workshop you will learn how to use medini efficiently. It will be a hands-on workshop, where we will showcase the medini process to ISO26262. The workshop will be adapted to the needs of the attendees. For more information on the topics please see the agenda.
In the advanced workshop you will enhance your skills in the usage of medini analyze. It will focus on new features and ways how to use them, to make the most out of medini analyze. You will have the opportunity to raise your improvements requests and discuss them with the developers as well as the experts from other companies. After the workshop delegates will also receive a certificate.
Overall topics are:
Efficient model based PHA/HARA
Consistent FSC & TSC
Safety Verification with FMEDA & FTA
Participation Fees
Conference only 195$
Workshop only 550$
Conference & Workshop 600$
You may contact us at:
E-Mail: user-conference@ansys.com ; Phone: +49 (0)30 34 80 770