Dieses Event ist beendet.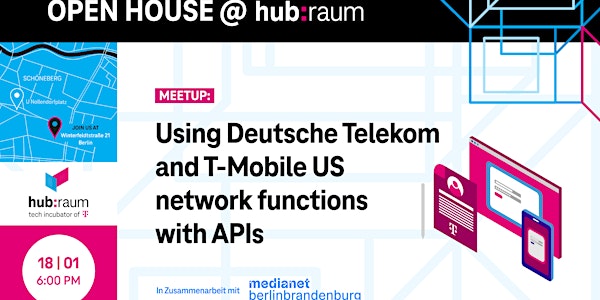 medianet OPEN HOUSE @ Hubraum
"Using Deutsche Telekom and T-Mobile USA network functions with APIs"
Zeit und Ort
Veranstaltungsort
hubraum - tech incubator of Deutsche Telekom Winterfeldtstraße 21 10781 Berlin Germany
Karte und Wegbeschreibung
Zu diesem Event
Entry: 5.30pm | Start: 6.00pm
Deutsche Telekom and T-Mobile USA offer access to their top-quality networks through Application Programming Interfaces (APIs). The focus is on user-friendliness for the global developer community. All APIs are developed in the CAMARA Alliance, so they also work in the networks of other operators. Telekom also offers developers the opportunity to extensively test the new capabilities of the 5G network in Seattle and Berlin with the 5G Early Access Program.
If you are interested, you should not miss the next medianet OPEN HOUSE @ hubraum, Deutsche Telekom's tech incubator. Hubraum and medianet invite you on 18th January at 6pm to learn exciting things about Telco APIs.
Agenda:
(2 min)
Welcome by Mario Bodemann, Developer Relation Manager, hubraum/moderator
(10 min)
Strategy around Telco APIs, why are we opening up, what are the use cases, what's in it for developers/Startups / CAMARA / Introduction 5G EAP - Noel Wirzius, Deutsche Telekom
(10 min)
Difference in the market/strategy in the US, why and how to cooperate with DT in Europe - Dharmik Mehta, T-Mobile US
(5 min)
Introduction 5G Early Access Program (EAP) - Anna Piwowarczyk, hubraum, Program Manager 5G Early Access Program
(2 x 10 min)
Pitches, Lessons learned of participants/developers of the 5G EAP
(ca. 18:45)
Q&A
About hubraum:
hubraum is Deutsche Telekom's tech incubator. By bringing together early-stage startups and the leading European telecommunications company, hubraum fuels innovation transfer in 5G, AI & IOT technology to create new business opportunities for both sides. hubraum offers investments, unique access to Deutsche Telekom's networks, clients and technology and free coworking space in our Berlin and Krakow locations.
You can subscribe for the hubraum Newsletter here.
We look forward to your participation!
Best wishes
Your medianet team