Dieses Event ist beendet.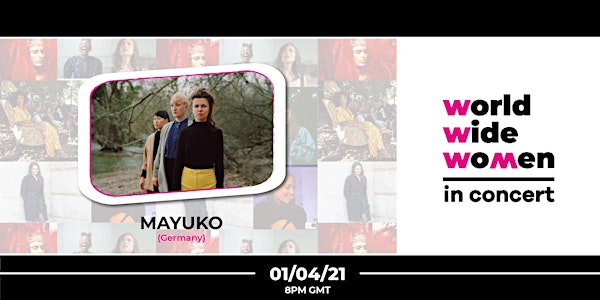 MAYUKO - Worldwide Wo+men in Concert #10
Worldwide Wo+men in Concert An online concert series in solidarity with artists and technicians
Rückerstattungsrichtlinie
Zu diesem Event
We are happy to present you tonight:
MAYUKO
The dreamlike sounds of MAYUKO create a kaleidoscope world where listeners can enjoy getting lost in cascading auditory labyrinths. With mesmerizing sound collages combining rough bass loops with Polish folk music samples or three-voiced choir singing with a four-on-the-floor-bass drum, MAYUKO creates a universe of its own by searching for a space where music can be fragile yet powerful, spherical and concrete, sophisticated and arousing simultaneously.
Michelle Cheung - Voice, Synths, Effects
Kasia Kadlubowska - Percussion, Electronics, Voice
Rebecca Mauch - Double Bass, Loops, Voice
Facebook: http://www.facebook.com/mayukoband
Instagram: instagram.com/mayuko_band
Signup here for our newsletter https://mailchi.mp/9f575437e20d/wwwinconcert
Realized with the help of:
#CulturalOfficeHannover​
#UnescoCitiesofMusic​
#UCCN
#weRculture
#womeninmusic
#WomeninMusicHannover​
#MusikZentrumHannover​
#PavillonHannover​
#ZinnschmelzeHamburg​
#GardenCollective​