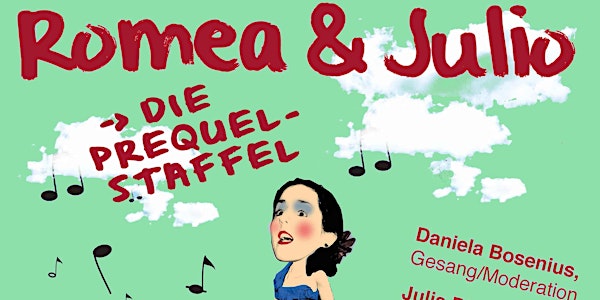 Matiné.- Romeo & Julio - Die Prequel-Staffel - Daniela Bosenius
Klassik Matiné mit Daniela Bosenius (Moderation/Gesang). Am Piano begleitet von Julia Diedrich.
When and where
Location
Theater im Walzwerk Rommerskirchener Straße 21 #Atelier 10 50259 Pulheim Germany
Refund Policy
Contact the organizer to request a refund.
About this event
Romea & Julio – Die Prequel-Staffel
Wie es zu den Liebelungen und Wirreleien kam…
Ja! Es gibt doch so viel und immer mehr zum wunderbaren und ewigen Thema Liebe zu singen und zu sagen, und da haben wir uns entschlossen, diese Gelegenheit nicht verstreichen zu lassen. Wir möchten zurück zu dem Ursprung all dieser "Wirreleien, Liebelungen und Märchengeigen", zu der Tragödie von William Shakespeare. Daher haben wir beschlossen, unseren bisherigen Romea & Julio-Staffeln ein Prequel voranzustellen: Anhand der einzelnen Geschehnisse im Leben des berühmten Liebespaares kreuzen wir schallend die Klingen, zeichnen klingend Liebesmomente nach und recken unsere Köpfe zusammen mit H. Erhard grinsend hinter die Kulissen menschlicher Dramen. Natürlich machen I. Berlin und A. Ll. Webber mächtig Lärm – schließlich beginnt ja alles in Feindschaft, doch "je l'aime à mourir" wenn "you light up my life"! Und wir dürfen zugucken :-) .