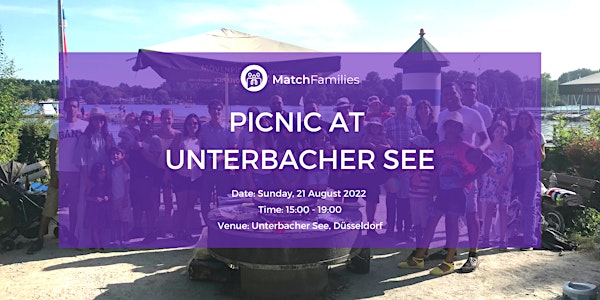 MatchFamilies Picnic At Unterbacher See
Meet, mingle and make friends with other expat families from Düsseldorf, Neuss, Mönchengladbach & more. Join us at Unterbacher See.
When and where
Location
Unterbacher See Kleiner Torfbruch 35 40627 Düsseldorf Germany
About this event
Are you new in town and looking to make friends with like-minded families living nearby?
Are you looking to meet families with kids the same age as yours to organise play dates?
Want to meet English-speaking expat families and expand your social circle?
Then MatchFamilies App's Picnic at Unterbacher See is just the event for you!
After the success of our last event, we're organising another event to bring all expat families from Düsseldorf, Neuss, and Mönchengladbach for an easy and relaxed afternoon of socialising with grilled food and drinks.
Food & Drinks
We have rented a grill for this event, so please get your own food 🥗 and drinks 🍺 for the picnic.
Activities for kids
Near the grilling station is a large playground for the kids 🧒 to have fun. We ensure there will be someone watching them for you so you can relax and enjoy mingling with other families. 👪
Meeting point & Time 📅
Date: Sunday, 21st Aug 2022
Time: 15:00 - 19:00
Ice-breaker
We've organised an ice-breaker session, so make sure you're there at Unterbacher See on time & not miss out!
Other
If necessary, please also bring along
Sun hat
Toys for your kids
Location
The grill stations are located in the North.
Ticket pricing
Tickets to the event are 5€ per adult.
The cost is to avoid last-minute cancellations and to cover the rent of the grill and the venue.
On arrival, you will receive a welcome drink and homemade starters.
Parking
Free, but limited parking spaces are available north of the boat harbour.
MatchFamilies App Düsseldorf Telegram Group
Join our Düsseldorf Telegram group if you have any questions or want to be informed about our upcoming events.
Please Note
Keep in mind the COVID-19 protocol while attending the event.
If you are unwell, please get yourself tested & stay home. 😷
Picture credit: https://unterbachersee.de/