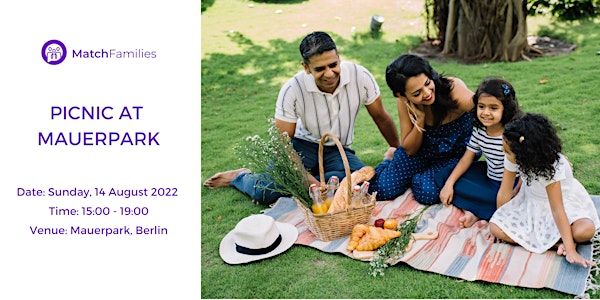 MatchFamilies Picnic At Mauerpark
Do you want to make friends with other families in Berlin? Join us in a fun & relaxed picnic at Mauerpark.
When and where
Location
Mauerpark Gleimstraße 55 10437 Berlin Germany
About this event
About this event
MatchFamilies App is thrilled to be hosting our first in-person event in Berlin this Summer. Join us for an enjoyable sunny afternoon in Mauerpark, situated right in the heart of Berlin. We've picked a perfect spot amongst the trees and a playground nearby. This picnic is your opportunity to socialize with other families in Berlin and enjoy the summer weather with snacks 🥙 and drinks🍹
Food & Drinks
Please bring along your snacks and drinks. There are food stalls nearby to purchase food and drinks if needed.
Other
If necessary, please also bring along
A picnic blanket or chair
Toys for your kids
Activities for kids
Near the picnic spot is a large playground for the kids. It is close enough for you to relax and enjoy mingling with other families while watching your kids play.
Ticket pricing
The picnic is free for children.
Tickets are 3€ per adult, and this is to avoid last-minute cancellations and also cover picnic organisation costs.
On arrival, you will receive a welcome drink and starters.
Ice- breaker Activities
We will also make sure that you are able to make meaningful connections by arranging ice-breaker activities.
Please be there on time for the picnic not miss them.
Meeting point & Time 📅
Date: Sunday, 14 August 2022
Time: 15:00 - 19:00
MatchFamilies App Berlin Telegram Group
Join our Berlin Telegram group if you have any questions or want to be informed about our upcoming events.
Location
Please use this pin to find the picnic spot - Google Map pin
Parking
Parking spaces such as Parkplatz on Eberswalder Str and Parking on Topsstraße 35 are available around the park.
Please Note
Keep in mind the COVID-19 protocol while attending the event.
If you are unwell, please get yourself tested & stay home. 😷