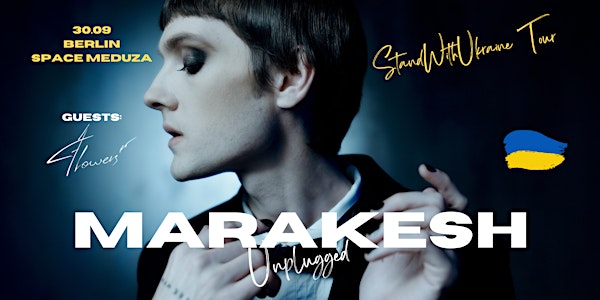 MARAKESH (Unplugged) | StandWithUkraine Tour | BERLIN + Guests: Flowers 15
MARAKESH (Unplugged) | StandWithUkraine Charity Tour | BERLIN (+ Guests: Flowers 15)
Zeit und Ort
Veranstaltungsort
Bar "Space Meduza" Skalitzer Straße 80 10997 Berlin Germany
Karte und Wegbeschreibung
Zu diesem Event
MARAKESH (UA)
Unplugged Special @ Space Meduza, Berlin
-- StandWithUkraine Charity Tour --
https://www.facebook.com/marakeshmusic
+ Guests: Flowers 15
https://www.facebook.com/iamflowers15
Friday 30.09.2022
Start: 20:00
Free entry (any donation to support Ukraine)
Reserve a seat here. Please reserve a seat in advance as we are only able to have a limited number of seats.
The donations will go to the Help Ukraine Center foundation where they will be distributed for humanitarian and medical aid.
MARAKESH is an alternative rock band from Kyiv, Ukraine. Formed in 2006 and named by Billboard as "solid and manifestly eclectic sound", the band soon appeared in the Grand Theft Auto IV soundtrack, reaching over 1,5 million views on YouTube and still growing. The band reached cult status in Ukraine thanks to extensive touring all around Europe, including a number of bigger festivals and a support slot for Placebo.
Their latest EP "199X" produced a hit single "Try Heart" featured in the US TV-series "Shameless".
After taking a break, Marakesh are now coming back with a series of new singles and the StandWithUkraine charity tour to support those who are suffering from the ongoing war in Ukraine.