Make-Your-Own Vibrator workshop (with Touchy-Feely Tech)
When and where
Location
School of Machines, Making & Make-Believe Veteranenstraße 21, hinterhaus, 1.Etage, rechts 10119 Berlin Germany
Refund Policy
Refunds up to 7 days before event
Description
Note: We're sold out on this date, but running another workshop on Sunday, the day after this one! You can sign up here!
We're interested in helping artists learn to use technology to expand their definition of art and in helping tech peeps learn to be more artistic and creative! Wherever you are on that spectrum, we invite you to join us for our Spring intensive workshops!
Introducing "Make-Your-Own vibrator workshop" with Touchy-Feely Tech, part of a series of mini-School of Machines, Making & Make-Believe courses we've put together to help get you started!
No experience necessary, come as you are.
Now let's begin!
___________________________
COURSE DESCRIPTION
The workshop, held in english, is designed to introduce you to the basics of electronics, coding and customizable pleasure.
During this workshop you will build your own functioning vibrator, while getting hands-on with the basics of electronics in the process. You will explore how to make simple changes to the internal and external parts to create a customised and safe-to-use end result. Finally, you will learn to hack your vibrator with an Arduino microcontroller, learning how hardware and software can be brought together to enhance the purpose and functionality of our intimate electronic possessions.
The workshop will be led by Alice Stewart and Dani Clode who form Touchy-Feely Tech, a creative technology studio working at the intersection of electronic hardware, art and education.
___________________________
WHAT WILL YOU LEARN?
* A history of vibrators (or "stimulation devices") through the ages
* An intro to basic electronics and circuitry
* Introduction to coding with the Arduino platform
* A clear understanding of the fundamental electronic components - resistors, capacitors, motors etc
* Specific knowledge relating to the production of vibrators, including the use of microcontrollers and body-safe materials
* Soldering skills
___________________________
WHO IS THIS COURSE FOR?
Humans interested in electronics and hardware. People who are interested in taking greater ownership over their possessions by learning how things are made!
___________________________
ABOUT PARTICIPATION
* No prior experience necessary.
* Small class, up to 20 attendees.
* Women and persons from LGBTQ+ and other underrepresented communities in the tech field highly encouraged to attend.
___________________________
FEES
€65 (Materials cost is €25 and is included in the total fee!)
Spaces are limited. Grab your ticket today on Eventbrite!
For alternative payment methods, message us at: info[at]schoolofma.org
___________________________
ABOUT THE INSTRUCTOR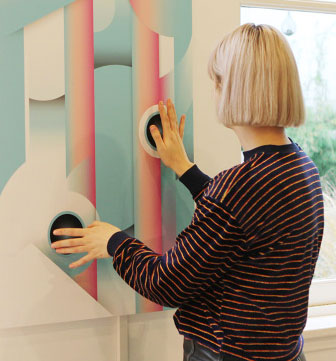 Alice Stewart is a creative technologist and designer based between London and Amsterdam. As an educator, she has established Hackspace workshops at Kingston University and the Royal College of Art in London. Her self initiated projects have been featured in such publications as The Guardian, It's Nice That and Complex Magazine.
alicestewwwart.com/
Image: Annie van Noortwijk and Alice Stewart