MAINZ Summer School "Charge and Spin Transport in Non-Metallic Systems and Confined Geometries"

Sunday, August 24, 2014 at 5:00 PM

-

Friday, August 29, 2014 at 2:00 PM (CEST)
Event Details
The Summer School "Charge and Spin Transport in Non-Metallic Systems" takes place at Johannes Gutenberg University Mainz from August 24 until August 29, 2014.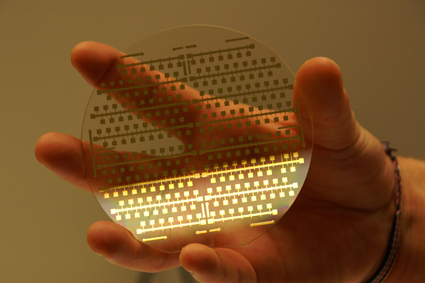 Scientific Focus

The summer school aims at highlighting the current state of investigations on the charge and spin transport in non-metallic organic and inorganic materials as well as in confined geometries. This school will present the research activities on the transport phenomena over the past decade from an experimental and theoretical point of view. Charge and spin transport in non-metallic materials is a challenging and interdisciplinary field. This is due to the wide variety of transport regimes, the crucial role played by defects, chemical environment, thermal fluctuations, mesoscopic and microscopic morphology of the material. The electronic states themselves can be delocalized (bandlike or small polaron models), strongly localized (hopping models, or large polaron) or dynamically localized by the adiabatic coupling with the nuclear structure and the surrounding environment (DNA, Liquid Crystals). Important challenges involve the understanding, and also the improvement of electronic transport in these materials. Thus, an interdisciplinary approach spanning from synthetic chemistry to condensed matter physics will be required. Progress in the field requires increased communication between the physics community studying these phenomena either theoretically or using model systems, and the materials chemistry community.
Goal

The goal of the summer school is to bring together scientists working in different areas related to this topic and to promote the exchange of ideas between different research communities. In particular this school aims at bridging hard and soft condensed matter. With this, it tries to achieve a key goal of the Graduate School MAINZ to support activities that involve both hard and soft matter and transport is a key example, where for instance strongly correlated hard matter spin and charge injectors are used in combination of polymers and other soft materials that can exhibit favorable properties such as long spin lifetimes and photo-activity.

Program
The program starts on August 24, 2014 at 6 p.m. (registration from 5 p.m.) and ends on August 29, 2014 around 2:00 p.m. Details will be published on the website www.organictransport.uni-mainz.de

Speakers
D. Andrienko, MPI for Polymer Research, Mainz

P. Blom,

MPI for Polymer Research, Mainz

A. Candini, CNR, Instituto Nanoscienze, Modena, Italy

M. Cinchetti, TU Kaiserslautern, Germany

D. de Leeuw,

MPI for Polymer Research, Mainz

A. Erbe, Helmholtz Center Dresden-Rossendorf, Germany

S. Gemming,

Helmholtz Center Dresden-Rossendorf, Germany

G. Güntherodt, RWTH Aachen, Germany

R. Janssen, TU Eindhoven, The Netherlands

M. Kläui, University of Mainz, Germany

B. Koopmans, TU Eindhoven, The Netherlands

F. May, BASF SE Ludwigshafen, Germany

J. Repp, University of Regensburg, Germany

U. Scherf, University of Wuppertal, Germany

J. Schmidt, University of Halle, Germany

D. Turchinovich,

MPI for Polymer Research, Mainz

D. Ucko, Senior Assistant Editor at Physical Review Letters, USA

B. van Wees, University of Groningen, The Netherlands

H. van Zant, Delft University of Technology, The Netherlands
Target Audience
Interested international Master and PhD Students, Postdocs

Social Program
The summer school includes a group excursion to Oppenheim. Oppenheim is famous for wine cultivation and for its underground labyrinth. The excursion will include a short city tour, a visit of the labyrinth and walk through the vineyards. Afterwards participants will enjoy food at one of the local restaurants.
Accommodation

We have reserved hotel rooms at local hotels at different rates available between August 24 and August 29, 2014. You will receive further information during the registration. Reservation and booking has to be made by yourself after the registration. Please contact hotels directly.
Costs

External participants:
Early bird (until June 30, 2014): 150€
Normal (until August 1, 2014): 250€

Members of Graduate School MAINZ: Paid by Graduate School MAINZ, please register as MAINZ PhD student!
Invited Speakers: Covered by organizers and donors, please register as Invited Speaker!
Costs include the program, coffee breaks, lunch and the excursion. The cost for external participants does not include Eventbrite fees. Evenbrite will charge you additional 9,75€ (for Early bird registration) or 15,75€ (for normal registration).
Costs have to be paid upon registration. Cancellation is not possible and will result in full charge of the cost.
Note that accommodation is billed by the hotel seperately!


Registration closes on August 1, 2014!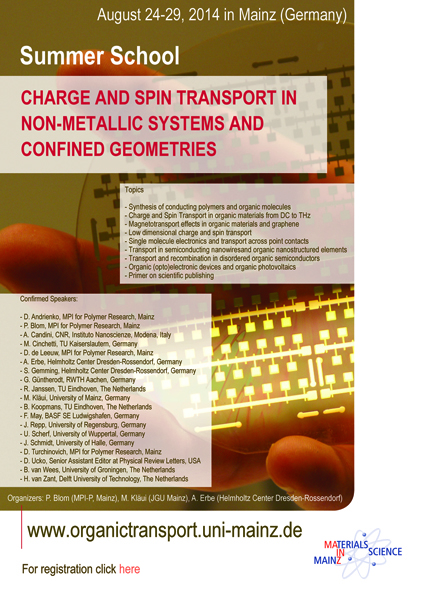 Have questions about MAINZ Summer School "Charge and Spin Transport in Non-Metallic Systems and Confined Geometries"?
Contact Graduate School MAINZ
When & Where

Mainz
Staudinger Weg 7
55128 Mainz
Germany


Sunday, August 24, 2014 at 5:00 PM

-

Friday, August 29, 2014 at 2:00 PM (CEST)
Add to my calendar