Dieses Event ist beendet.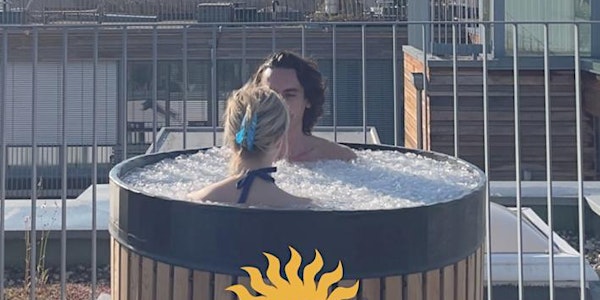 MAHALLA X INNERSUN: Breathwork x Kundalini Activation x Icebath
MAHALLA WINTERLAND X INNERSUN present a 90 min holistic guided experience: ❄️ Breathwork x Kundalini Activation x Icebath x Sauna ❄️
Zeit und Ort
Veranstaltungsort
MaHalla Wilhelminenhofstraße 76 12459 Berlin Germany
Karte und Wegbeschreibung
Rückerstattungsrichtlinie
Kontaktieren Sie den Veranstalter, um eine Rückerstattung anzufordern.
Zu diesem Event
MAHALLA WINTERLAND X INNERSUN present:
BREATHWORK X KUNDALINI ACTIVATION X ICEBATH EXPERIENCE
a holistic guided 90 minutes extraordinary experience
MaHalla invites you to a nesting, hibernating and warming winter wonderland. Immerse yourself in a magical, romantic and dreamy wonderland, each dome a different kingdom, each tent a different universe. An ever transforming Christmas village that is made up of culinary, sounds, warmth, cold and visual extraordinary experiences co-created in community.
We offer breath work & warming activation exercises in shamanic Yurts followed by guided Ice bathing and Sauna to invoke your inner warrior in our magical winterland in MaHalla. The winterlland gets a new meaning: The cold is our teacher! Let us guide you through a full body experience per 90 minutes to activate each cell of your body and strengthen also the mind.
Move beyond your comfort zone, feel your inner and outer aliveness and access your power within! The activation exercises are inspired by the kundalini Yoga tradition.
The holistic journey is designed to move you beyond the physical and connect you to your inner essence.
*Breathwork benefits*
Reduces stress and anxiety
, Boosts mood and energy
, Improves sleep
, Activates a greater sense of consciousness and creativity, Promotes emotional release
*Kundalini Activation benefits*
Help ease stress and anxiety, improve cognitive functioning, and boost self-perception and self-appreciation, energetic upgrade
*Ice bathing benefits*
Boosts feel good hormones
, Reduces inflammation
, Creates a positive stress response
, Boosts immune system
, Promotes muscle recovery
, Improves your sleep
, Encourages willpower and mental health
******
Each session is guided by Joel Sartras, the founder of Innersun and Marina Lukoschat, Yoga and motivation teacher: Both are experienced in guiding meditation, yoga and icebath sessions and give regularly sessions in their Rooftop Boutique Studio in Prenzlauer Berg and Soho House.
5 time slots to book with 90 minutes guided experience that include:
ALL GUIDED: BREATHWORK x KUNDALINI ACTIVATION x ICEBATH SESSION
PLEASE BRING TWO TOWELS AND A YOGA MAT FOR YOURSELF.
NO EXPERIENCE REQUIRED
If placesb are still available, participation and payment are also possible in cash at MaHalla.
Address: MaHalla, Wilhelminenhofstraße 76/77 Tor 1A, 12459 Berlin
ACTIVATE YOUR INNER WARRIOR AND JOIN US.
Find us & more information on Instagram:
@mahalla.berlin
@sartras
@marinaluk
@innersun.berlin