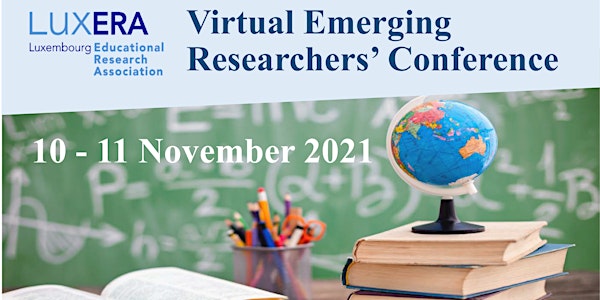 LuxERA Emerging Researchers' Conference 2021
LuxERA Emerging Researchers' Conference 2021
Zu diesem Event
The virtual conference provides an opportunity to emerging researchers to present their work on educational research in a collegial and friendly atmosphere and serves as a forum stimulating exchange and cooperation within the field of education and related fields, such as inclusive education, multilingualism, lifelong learning, history of education, sociology of education and beyond.
Conference programme
Wednesday, 10 November 2021
13h00 – 13h15 Welcome and Opening Words
13h15 – 14h15 Talk: Developing the Capacity of EERA's Emerging Researchers by Saneeya Qureshi, University of Liverpool & Link Convenor of EERA's Emerging Researchers Group (ERG)
14h30 – 16h00 Parallel Sessions I & II
Session I: (Higher) education research and science studies
Session II: Cognitive and educational psychology
17h00 – 18h00 LuxERA General Assembly
Thursday, 11 November 2021
09h00 – 10h30 Parallel Sessions III & IV
Session III: Language learning
Session IV: Curriculum studies
10h50 – 11h45 Moderated 5-minute Pitches
12h00 – 13h00 Parallel Sessions V & VI
Session V: Disability and inclusive education
Session VI: Methodological challenges and innovations in educational research
13h05 – 13h15 Farewell
About LuxERA
A forum for dialogue and a network for the support and encouragement of established and emerging researchers and for the development of science policy and scientific exchange in the field of educational research in Luxembourg, Europe, and worldwide.
Participation
Participation will be free to all LuxERA members and 30 Euros for non-members. We encourage all researchers in our community to join the association and to benefit from a discounted/free participation at ECER and LuxERA events. To become a member, please fill out the following form.
Privacy policy statement
For conference planning purposes, we store your personal data (name, affiliation, e-mail address). These data are necessary to process your conference participation. They will be only used for this purpose and not forwarded to any third party. Without your agreement, we cannot process your conference participation.
Further questions: do not hesitate to contact us (luxeraconf@uni.lu)
Datum und Uhrzeit
Veranstaltungsort