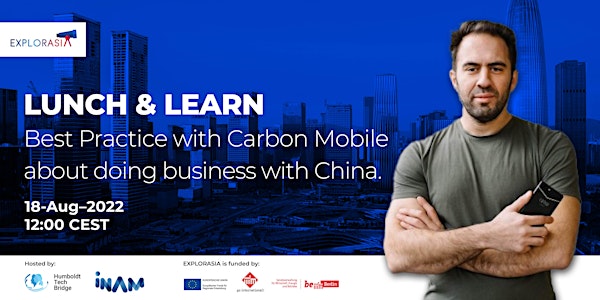 Lunch & Learn | Learn from Carbon Mobile about doing business with China
Join us for a digital lunch session with Carbon Mobile's founder, Firas Khalifeh.
About this event
Join us here: https://hu-berlin.zoom.us/j/67990171428
An internationalization strategy is crucial for any growing startup. What better way to learn than to talk to someone who has done it before? In our best practice session with Firas Khalifeh, founder and CEO of Carbon Mobile, you will get first-hand insights on how he and his startup set up production-site in China (Shenzhen).
Firas will also share his experience in finding strategic partners and building lasting business relationships, how he currently keeps his production running remotely, and will shed some light on startup-friendly suppliers and how to find them!
What to expect
Listen to the journey of setting up production-site in China (Shenzhen)
Common pitfalls for startups new to China and simple tricks to avoid such
Q&A
Learn about "Bridge to China" – the Market Decoding Program for Science-based Startups
About the Speaker
Firas Khalifeh is the chief executive officer of Carbon Mobile GmbH, a Berlin-based tech company on a mission to revolutionise the personal electronics industry. Born and raised in Damascus, Syria, he's a multi-award-winning, visionary serial entrepreneur with in-depth experience in product design and startup development. Since 2015, he has overseen the development of the Carbon 1 MK II, the world's first carbon fibre smartphone that paves the way for new levels of miniaturisation and sustainability in tech. With an almost impossible budget, establishing strong, single-minded relationships between Europe and Asia were vital to the project's success.