Description
Welcome to the Corona Dialogues, the space where we share and grow questions, challenges, problems and ideas that have been triggered, caused or become evident by the Corona pandemic into concrete actions, initiatives and projects. We go beyond describing issues and co-create our future. Not by replicating the past but by sensing and leading from the emerging future. A future where the human being is at the center of life - may it be in our personal lives, in business or society.
Agenda and format:
Each week we discuss a different topic. This could come from a special guest or a personal idea, question, challenge or problem that have been triggered, caused or become evident by the Corona pandemic. Depending on the size of the group we will break it up into several virtual breakout rooms where we will discuss the presented issue(s) in depth. At the end of the session the breakout teams present their findings and recommendations to the whole group.
Special Topic on June 3, 2020: Humans First. Moving Beyond the Corona Crisis

The Corona crisis has drastically changed our business environment. And it has moved us to reflect on our own personal standing and attitude toward business in general. While in the past most of us just followed along, the crisis has put a spotlight on our own personal state of being. Where is our spot in business? What do we focus on? How do we benefit from business besides having a steady income? How do we want to live coming out of this crisis?
The widely popular "Being Human" podcast aims at bringing deeper perspectives to the business conversation. It is not so much about business but about what role we humans have in business and how we want to shape business.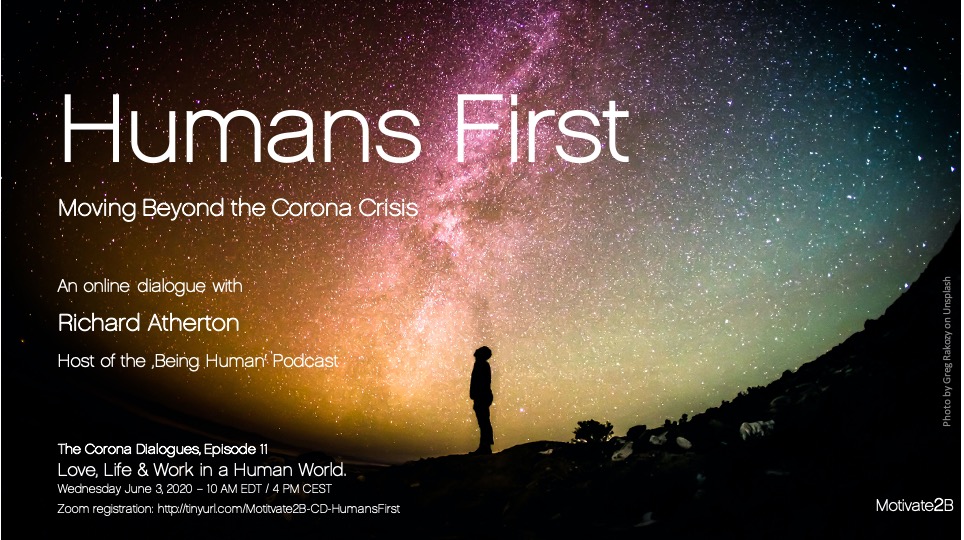 Past podcast guests included:
Peter Levine - author of 'Waking The Tiger'

Dave Snowden - Known for the Cynefin framework.

Kent Beck - co-originator of Extremely Programming

Dave Allen - the originator of 'Getting Things Done'.

Brian Robertson - originator of Holacracy, possibly the most radical approach to business design that exists today.

Henry Stewart - author of 'The Happiness Manifesto' and a man who has created a thriving business with joy as its organizing principle.
In the upcoming 11th episode of the online dialogue "Love, Life and Work in a Human World" the host of "Being Human" podcast Richard Atherton will join us.
Reflecting on Richard's more than 100 interviews, we want to find out what the 3 most serious "nightmares" were people shared or foresaw, what the 3 most inspiring visions and the 3 most enticing and motivating practices were that Richard recalls.
Recordings of past episodes are available on YouTube.
Note: This is an ONLINE EVENT:
Once you have registered for the event, you will get additional login and password information for the event. You can join by phone or computer.
This event will be recorded, and an edited version will be shared with a wider audience. By registering for this event, you consent to the recording. Let us know beforehand if you want your contributions to be cut out of the edited recording.
Your facilitator:
Thomas Juli, Ph.D., is founder and managing director of Motivate2B (www.Motivate2B.com), an agency that helps companies find purpose as well as opportunities to master the change, unfold organizational potentials, and thus ensure sustainable business value.
FAQs
Whom can I contact in case of additional questions?
Please send an email to info@motivate2b.com.