90min LIVE Yoga @ Schloßgut Schwante
About this event
Join me and your fellow yogis for a 90min PurePrana Vinyasa Flow class. From September, we will be moving out of the gardens and into the Schloß, where it's warm and cozy.
Practice with us in one of the beautiful halls of this country estate, with wood floors, high ceilings, fireplaces and a stately feel.
There is no pre-registration necessary for this class. Just come to the front door of the Schloß (park outside the gates) and bring €15 cash for the class fee, as well as your yoga mat and something to cover yourself for sivasana if you tend to get cold.
Check out the Schloßgut Schwante website for directions. https://schlossgut-schwante.de/ or see the map below. The "Meet Here" indicates the front door of the house.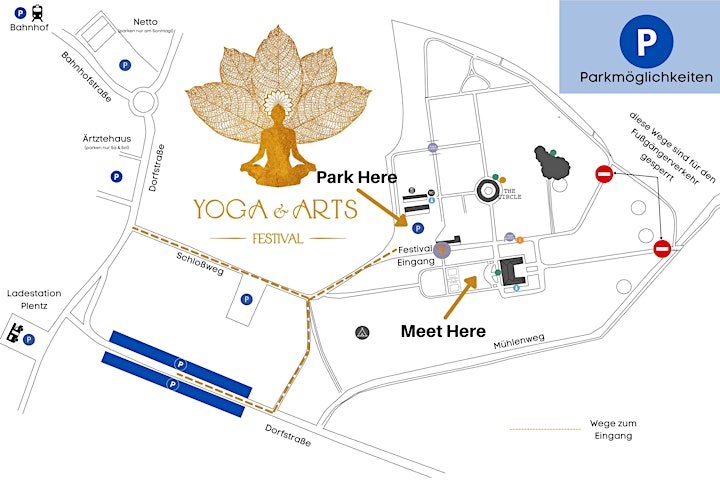 Anfahrt
Schlossgut Schwante
Schlossplatz 1-3 (Navigation: Schlossweg 1, 16727 Oberkrämer)
16727 Oberkrämer OT Schwante.
Mit dem Auto aus Berlin:
nördlicher Berliner Ring, A10 Richtung Hamburg Ausfahrt 30 "Oberkrämer", links abbiegen Richtung Schwante, durch Vehlefanz hindurchfahren, nach dem Kreisverkehr links in den Schlossweg abbiegen – Parkplätze vorhanden.
Achtung: Auf der A 111 Stadtauswärts ist auf der Höhe Schulzendorfer Strasse ein fest installierter Blitzer!
Öffentliche Verkehrsmittel:
S-Bahn 25 bis Bahnhof Hennigsdorf, weiter mit RB 55 Richtung Kremmen bis Station Schwante. Von dort sind es fußläufig 7 Minuten bis zum Schlossgut.