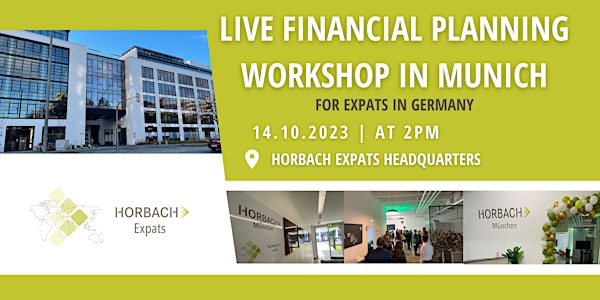 Live Financial Planning Workshop in Munich
Meet new people, receive professional financial advise, and connect with other expats living in Germany!
Date and time
Starts on Sat, 14 Oct 2023 14:00 CEST
Location
HORBACH Expats Balanstraße 73 Haus 12 2.OG 81541 München Germany
About this event
Financial Planning in Germany can be challenging. Regardless where you come from and how long you plan on staying as long as you spend some time in Germany during your lifetime you should be aware of how the system works and what is happening with your money.
We will start with a LIVE financial planning workshop. Interactive from beginning to end, so that by the end of the event you have a clear picture of your cashflow and next steps for liquidity management, risk management, and wealth management in your individual situation. We'll work in groups - so looking forward to your questions!
Participation in the event is completely cost-free and the tickets are limited! Register here to secure your spot.
We are looking forward to meeting you there - you won't wanna miss it!
Make sure you sign up early!
Click here to find the event location in Google Maps!
Meet HORBACH Expats: We are pioneers in providing digital multilingual financial services for expats in Germany. Because financial freedom should be a right, not a privilege.
For individual appointments either by email (horbachexpats@outlook.com) or by clicking here
About the organiser
HORBACH Expats
Munich-based and active Germany-wide.
EN | DE | ES | HR | RU | FR | TR