Sales Have Ended
Registrations are closed
EN: Thanks for registering. Happy LinguaCamping ! DE: Danke für die Anmeldung. Frohes LinguaCampen!
Sales Have Ended
Registrations are closed
EN: Thanks for registering. Happy LinguaCamping ! DE: Danke für die Anmeldung. Frohes LinguaCampen!
Description

EN: LinguaCamp - the unconference
There is no audience, only participants.
Meet people from abroad, teach your language, learn their language, try out new methods and technologies, exchange your knowledge, design new teaching material, build intercultural & teaching skills, share your work.
All levels, all languages, all ages welcome !
Conference languages are French, German, English and maybe your language !
More on :
http://linguacamp.com
https://twitter.com/linguacamps
http://meetup.com/linguacamp-berlin
http://facebook.com/linguacamps
This is a two-day event. You can sign up for Saturday and/or Sunday. Please sign up only if you are sure to attend.
Happy LinguaCamping ! :: Joyeux LinguaCamp :: Frohes LinguaCampen!
---
DE: LinguaCamp - die Mitmach-Konferenz
Hier gibt es kein Publikum, nur "Teilgeber"
Häufige Fragen und Antworten
1 Was ist ein Linguacamp?
eine internationale Mitmachkonferenz, ein «Barcamp», bei dem es kein Publikum gibt, nur aktive Teilnehmer, alle sind «Teilgeber»
den Kern der Veranstaltung bilden mehrsprachige Workshops, «Sessions», die jeweils am Samstag- und Sonntagmorgen von den Teilnehmern selbst vorgestellt und je nach Interesse der übrigen Teilnehmer durchgeführt werden
2 Wer kann teilnehmen?
Fremdsprachenlerner aller Länder und aller Altersstufen, Schüler (ab 16 Jahre), Studierende, Erwachsene, Rentner, Berufsanfänger, Berufstätige und Arbeitssuchende, Selbstständige und Unternehmer, Lehrer, Dozenten, Trainer, Gründer und Kreative im Bereich Sprachen, Schul- und Kurs-Leiter, Autoren, Content-Entwickler, Illustratoren, Grafik-Designer, Fotografen, Video-Produzenten, Sprecher, Schauspieler, Übersetzer, Dolmetscher, Musiker, Software-Entwickler, Sound-, Text- und Wort-Künstler, Journalisten, alle, die sich für Fremdsprachen und Fremdsprachenlernen interessieren und ihr Wissen mitteilen möchten.
3 Was sind die Themen?
Neue Formen des Fremdsprachen-Lernens und -Lehrens
Fremdsprachenlernen für den Beruf
Einsatz neuer Technologien & Medien für das Fremdsprachenlernen
LMOOC, einen MOOC fürs Fremdsprachenlernen einrichten und starten
Content-Entwicklung
weitere Themen der «Teilgeber»
4 Wo ist das Programm?
Es gibt kein vorher festgelegtes Programm
Das Tages-Programm ergibt sich aus den «Sessions», die von «Teilgebern» vorgeschlagen werden und für die sich andere Teilnehmer interessieren
Teilnehmer können Sessions spontan anfragen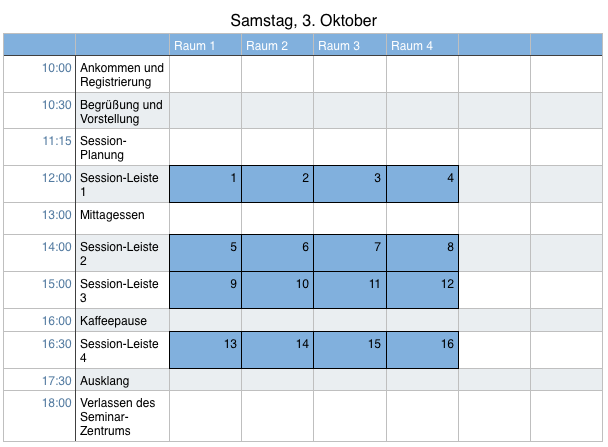 5 Welche Sessionvorschläge gibt es schon?
Hier ein paar Beispiele aus der Vorschlagsliste:
Turmbau zu Babel: Sprachen lernen mit Bausteinen (z.B. Lego)
Workshop: Das beste Vokabellernprogramm
Fremdsprachenlernen mit Theater
Wie funktioniert Tandem-Exchange?
Wir designen einen LMOOC, einen "Massiv Open Online Language Course"
Lernkarten-App-Programmierung - Erfahrungen und Tipps
Workshop: Fremdsprachenlernen mit Open Hardware (Raspberry Pi und Arduino)
Kleine Lizenz-Kunde für Autoren und Nutzer von Lern-Materialien, Software und Apps
Wie veröffentliche ich meine Werke? - Selbstverlag, e-Publisher oder klassischer Verlag?
Sprachenberatung - Was ist das? Wie geht das?
Neues vom Fremdsprachen-Lernen mit Videos
Die Methode LdL ("Lernen durch Lehren") fürs Fremdsprachenlernen nutzen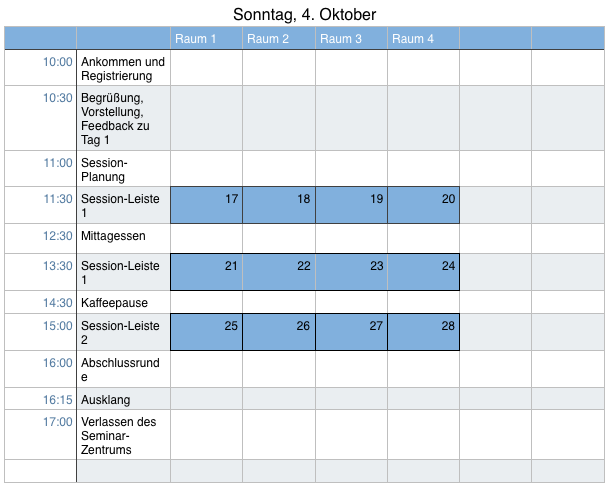 6 Was kostet die Teilnahme?
Dank unserer Sponsoren ist die Teilnahme kostenlos. Es gibt aber wie bei Barcamps üblich ein Prinzip des Gebens und Nehmens:
7 Was kann ich beitragen?
Als Teilnehmer bringe mich aktiv und konstruktiv ein, zum Beispiel mit einer eigenen Session oder am Empfang und der Einweisung anderer Teilnehmer
Ich erzähle anderen von der Veranstaltung, helfe mit Weiterempfehlung von Mund zu Mund und im Internet vor, während und nach dem LinguaCamp
Ich teile und verbreite meine Eindrücke und Ergebnisse möglichst übers Internet, Stichwort «Linguacamp Berlin» oder Hashtag #lingcb15
Ich lobe die Sponsoren
8 Wer sind die Sponsoren?
das Sprachlernzentrum der FU Berlin-Dahlem
ELTABB - English Language Teachers' Association Berlin -Brandenburg
und mehr
9 Wer sind die Veranstalter?
Nach außen wird das LinguaCamp Berlin vertreten durch:
Christian Reuter, Trainer, Open-Blended-Learning-Experte, Mittler zwischen den Kulturen in Berlin und Paris
Sherri Williams, Fremdsprachen-Trainerin für Englisch
10 Was sind die Konferenzsprachen?
Deutsch, Englisch, Französisch
weitere Sprachen, je nach Teilnehmerzahl
Teilnehmer anderer Muttersprachen sind herzlich willkommen
Wir suchen noch freiwillige Dolmetscher und Übersetzer!
11 Wo kann ich mit anderen diskutieren?/Wo ist die Online-Community?
Auf einer der folgenden Webseiten:
https://twitter.com/linguacamps
http://meetup.com/linguacamp-berlin
http://facebook.com/linguacamps
12 Wann findet das LinguaCamp 2015 Berlin genau statt?
Samstag, den 3. Oktober von 10-18 Uhr
Sonntag, den 4. Oktober von 10-16 Uhr
Eine Einschreibung für einen Tag ist möglich. Am Samstagmorgen findet die allgemeine Einführung mit der großen Vorstellungsrunde statt. Es ist deshalb empfehlenswert dabeizusein. Bitte schreib dich nur ein, wenn du sicher bist, teilnehmen zu können. Am Samstag ist der Registrierungsschalter ab 9:30 geöffnet, damti wir pünktlich beginnen können.
13 Wo findet das LinguaCamp 2013 Berlin genau statt?
FU Berlin Dahlem Seminarzentrum
in der Rost- und Silberlaube
Otto-von-Simson-Str. 26
14195 Berlin-Dahlem
U-Bahn U3 Haltestelle «Dahlem Dorf» oder «Thielplatz» (zu Fuß ca. 10min)
Bus M11 Haltestelle «Löhleinstraße» (zu Fuß ca. 3min)
14 Wo finde ich weitere Infos
Auf Internet:
http://linguacamp.com
http://linguacamp.org
http://linguacamp.net
https://twitter.com/linguacamps
http://scoop.it/linguacamp
http://facebook.com/linguacamps
15 Wie kann ich die Veranstalter direkt erreichen?
per E-Mail: chris@linguacamp.org