Dieses Event ist beendet.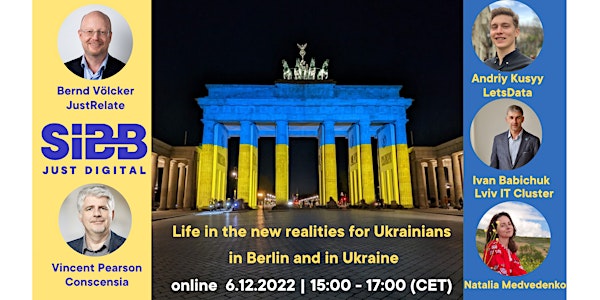 Life in the new realities for Ukrainians in Berlin and in Ukraine
How the war in Ukraine prompted people to move to Berlin and start arranging their lives in the new realities.
Zu diesem Event
Agenda
Link for the webinar: https://us06web.zoom.us/j/83556193512
Moderation: Vincent Pearson
15:00 - 15:05 Opening speech by René Ebert - Managing Director of SIBB e. V.
15:10 - 15:30 Chairman of the Supervisory Board of Lviv IT Cluster | Ivan Babichuk
An overview about the current situation of the IT industry in Lviv and in Ukraine. Introduction about Lviv IT Cluster and some national/international projects they participate in. How the war affected IT sector in Lviv and in Ukraine?
15:30 - 15:35 - Q&A session
Field report on how the company rented a house in Berlin in March 2022 for several months to offer Ukrainian refugees a permanent home and at the same time offered them IT Micro-Degress for free.
15:50 - 15:55 - Q&A session
15:55 - 16:05 (including Q&A session) Natalia Medvedenko
A story from a refugee who fled war to Berlin and started her education in the IT sector. Successes, setbacks and learnings in that process.
16:05 - 16:15 Andriy Kusyy, Co-founder of LetsData.
Living in Berlin as an Ukrainian Startup Team but building the Startup in the Ukraine even during these times.
16:15 - 16:20 - Q&A session
16:20 - 17:00 - Networking, Questions and open discussion among all speakers and participants in Zoom breakout rooms.