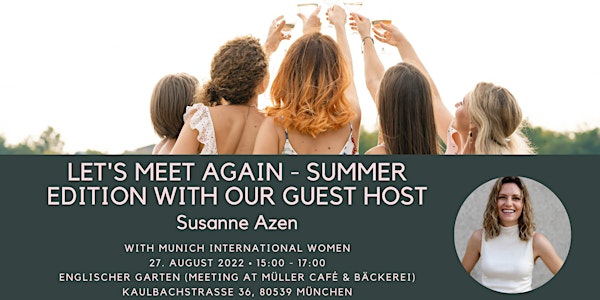 Let's Meet Again - Summer Edition with a Guest Host
Let's meet again and connect with other wonderful and like-minded International Ladies of the city!
When and where
Location
Englischer Garten Kaulbachstraße 36 80539 München Germany
About this event
Hello Ladies,
I hope you are well and reading my message from somewhere on the beach. But I also hope that you will be back in our city by the end of the month, because we would love to see you all at our next women's picnic that we are organizing 😉 This month's picnic will be really special because Suzanne Azen will join us as a guest host and spice up the event with interesting and fun exercises.
ABOUT HER
Susanne Azen is a certified Systemic and Business Coach and in her daily work she accompanies individuals, families and companies on the topics of Female Empowerment, Expat Life and Diversity. Susanne Azen has herself lived for several years as an expat in Miami, USA and Zurich, Switzerland. She currently lives in her hometown of Munich with her Brazilian husband and three-year-old son. This time she will help us to discover and share our stories while empowering and building friendships with other Ladies.
THE SCHEDULE
During the Ladies Picnic, we will grab first a beverage of your choice or even an ice cream near . Then we head towards Englischer Garten, where we can introduce ourselves, share our stories, network & have fun. With this event, we would like to bring together International Ladies of all ages and nationalities to share experiences, learn from and support each other.
MEETING POINT: Müller Café & Bäckerei) Kaulbachstraße 36, 80539 München
You are very welcome to join, be creative together and have a lovely time!
We are looking forward to seeing you there!