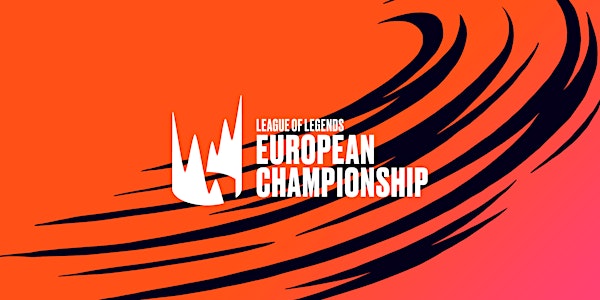 LEC Summer Week 8 - Saturday
Europe's best League of Legends teams make history in the LEC!
When and where
Location
LEC Studio, Riot Games Am Studio 20D 12489 Berlin Germany
Refund Policy
Refunds up to 1 day before event
About this event
Europas beste League of Legends Teams schreiben in der LEC Geschichte!
Besucht lolesports.com für weitere Informationen und Flickr für Event Fotos. Bei Fragen schreibt uns über das Kontaktformular.
Europe's best League of Legends teams make history in the LEC!
Check out lolesports.com for more info and Flickr for event photos. If you have questions please contact us through the mailing system.
FAQ
Einlass / Admission
Muss ich das Ticket ausdrucken und brauche ich einen Ausweis? / Do I have to print the ticket and do I need a Photo ID?
DE: Du kannst das Ticket ausdrucken oder auf deinem Smartphone vorzeigen. Ein Ausweis wird auch benötigt.
ENG: You can print your ticket or bring it on your smartphone. Your ID is also required.
Wann muss ich da sein und was wenn ich zu spät komme? / When should I arrive and what if I'm late?
DE: Einlass ist ab 15:45 Uhr. Um 16:30 beginnt die Pre-Show, das erste Match startet gegen 17 Uhr. Der Einlass ist durchgehend besetzt, Verspätungen sind also kein Problem.
ENG: Admission starts at 15:45. Pre-Show starts at 16:30 and the first match is around 17:00. If you are late there will always be someone available to check you in.
Wie alt muss ich sein, um zuschauen zu dürfen? / Is there an age requirement?
DE: Zuschauer müssen 12 oder älter sein um an diesem Event teilzunehmen.
Jugendliche im Alter von zwischen 12 und 13 Jahren müssen von einem Erziehungsberechtigten begleitet werden oder das Studio um 20 Uhr verlassen.
Jugendliche im Alter von zwischen 14 und 15 Jahren müssen von einem Erziehungsberechtigte begleitet werden oder das Studio um 22 Uhr verlassen.
Jugendliche im Alter von zwischen 16 und 17 Jahren müssen von einem Erziehungsberechtigten begleitet werden oder das Studio um 24 Uhr verlassen.
ENG: You must be 12 or older to attend this event.
Attendees aged 12 to 13 must be accompanied by a legal guardian, or leave the studio at 8 P.M..
Attendees aged 14 to 15 must be accompanied by a legal guardian, or leave the studio at 10 P.M.
Attendees aged 16 to 17 must be accompanied by a legal guardian, or leave the studio at 12 A.M.
Wie erfolgt die Sitzplatzauswahl? / How is seating arranged?
DE: Die Auswahl der Sitze erfolgt frei. Bitte kommt entsprechend früh, wenn ihr zusammen mit euren Freunden sitzen wollt.
ENG: All seating is on a first come first serve basis. Please arrive early, if you want to sit with your friends.
Kann ich meine Tasche, Rucksack oder Koffer mit ins Studio nehmen? / Can I bring my bag, backpack or suitcase into the Studio?
DE: Alle Taschen et cetera müssen an der kostenlosen Garderobe abgegeben werden.
ENG: All bags et cetera have to be stored at the wardrobe, free of charge.
Corona Maßnahmen
Wir arbeiten in Übereinstimmung mit den lokalen COVID-Richtlinien. Um persönlich am LEC-Studio teilnehmen zu können, musst du also die für Berlin geltenden staatlichen Vorschriften erfüllen. Die aktuellen gesetzlichen Bestimmungen können sich kurz vor der Veranstaltung noch ändern, so dass wir unsere Richtlinien entsprechend anpassen werden. Im Moment verlangen wir noch, dass du im Studio eine FFP2 Maske trägst, es sei denn, du isst oder trinkst, und dass du dich nach Möglichkeit sozial distanzierst.
Covid Measures
We are working in accordance with local COVID guidelines, so to attend the LEC studio in person you will need to meet the existing government regulations in place for Berlin. The current government regulations may change closer to the event, and as such, we will adapt our guidelines as necessary. At the moment we still require you to wear a FFP2 mask inside the studio, unless eating or drinking, and to observe social distancing where possible.
Essen, Trinken, Merch & Sonstiges / Food, Drinks, Merchandise & Other
Gibt es Verpflegung? / Is there food for sale?
DE: Wir haben einen Verkaufsstand mit verschiedenen Snacks und Getränken im Studio. Am Verkaufsstand kann nicht mit EC- / Kreditkarte bezahlt werden.
Wir erlauben aber mitgebrachte Snacks und ALKOHOLFREIE Getränke bis maximal 0,5L in Plastikflaschen.
ENG: There is a concession stand in the studio that has various food items and beverages for sale. You cannot pay via bank / credit card at the concession stand.
We allow outside snacks and NON-ALCOHOLIC drinks up to 0,5L and only in plastic bottles
Darf ich meinem Lieblingsspieler/-caster etwas schenken? Can I give a present to my favorite Pro or Caster?
DE: Ja! Wir empfehlen aber kein Essen / Trinken (auch OVP) zu verschenken.
ENG: Yes! We recommend avoiding food / drinks as presents (even if they are sealed)
Darf ich mein Haustier mit zur LEC nehmen? / Can I bring my pet to LEC?
DE: Hunde und sonstige Tiere müssen zu Hause bleiben
ENG: Dogs and other animals should be left at home.
Anreise / Arrival
Wie komme ich mit öffentlichen Verkehrsmitteln zum Studio? /How do I get to the studio with public transportation?
DE: Am einfachsten mit den S-Bahn Linien 8, 9, 45, 46 oder 85 und steigt an der Haltestelle Adlershof aus.
ENG: The easiest way to get to the studio are the S-Bahn lines 8, 9, 45, 46 and 85. Get off the train at the station Adlershof.
Wo kann ich parken? / Is there parking?
DE: Leider haben wir keinen Parkplatz direkt am Studio, aber es sollten genug Plätze in der Nähe frei sein.
ENG: Unfortunately, we have no parking available at the studio, but you can find space nearby.
Ticketrückgabe / Refund policy
DE: Tickets können bis einen Tag vor dem Event rückerstattet werden. Nach diesem Zeitpunkt können keine Rückerstattungsanfragen bearbeitet werden.
ENG: Refund requests can be filed up to one day previous to the event. After that point in time refunds can not be processed.
Verzichtserklärung für Bild- sowie Filmaufnahmen
DE: Dies ist eine Veranstaltung mit Live-Übertragung, organisiert von Riot Games Services GmbH ("Riot"). Am Veranstaltungsort, können sie gefilmt oder fotografiert werden, und ihr Bild kann in der Live-Übertragung auftauchen oder im Film verwendet werden. Wenn Sie an der Veranstaltung teilnehmen, NEHMEN SIE ZUR KENNTNIS, DASS RIOT IM RAHMEN DER AUFGENOMMENEN VIDEOS AUFNAHMEN VON IHNEN FÜR TURNIER-REPORTAGEN UND ZU WERBEZWECKEN VERWENDEN KANN. Dies gilt auch für die finale Version des Videos oder Films, einschließlich, aber ohne Beschränkung auf direkte Übertragung, kommerzielle Ausstellung, Werbung, Verkauf, Vermietung, Wiederverkauf oder weitere Nutzung der produzierten Inhalte oder die Verfügung darüber. Riot kann diese Inhalte so lange aufbewahren und verwenden, wie es zur Erfüllung dieser Ziele nötig ist. Riot und seine Tochtergesellschaften sowie Medienpartner können die Inhalte weltweit und ohne territoriale Begrenzungen nutzen.
WENN SIE DIESEN BEDINGUNGEN NICHT ZUSTIMMEN, NEHMEN SIE BITTE NICHT TEIL. Für weitere Informationen zur Verwendung ihres Bildes kontaktieren Sie bitte privacy@riotgames.com.
Shoot notice
ENG: This is a live broadcasted event hosted by Riot Games Services GmbH ("Riot"). At the venue, you may be captured on film or video, and your image and likeness may appear in a direct broadcast and be used in the film. By participating at this event, YOU CONFIRM YOUR UNDERSTANDING THAT RIOT MAY USE OF YOUR IMAGE AND LIKENESS FOR TOURNAMENT COVERAGE AND MARKETING PURPOSES IN CONNECTION WITH THE VIDEO BEING SHOT, and in any final version of the video or film, including, without limitation, direct broadcast, commercial exhibition, promotion, sale, rental, resale, or other use or disposition of the content being produced. Riot may store and use this content for as long as may be reasonably required to achieve these purposes. Riot, including its affiliates and media partners, may use the content globally, without any territorial limitations.
IF YOU DO NOT AGREE TO THESE TERMS, PLEASE DO NOT PARTICIPATE. For more information on use of your image and likeness, please contact privacy@riotgames.com.