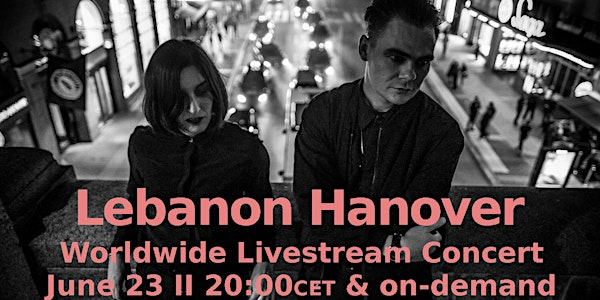 Lebanon Hanover Livestream Concert
Experience an exclusive livestream concert by Lebanon Hanover. The show is streamed live and also available on-demand for 14 days.
Refund Policy
Contact the organizer to request a refund.
About this event
Livestream starts on June 23rd, 8pm CET. Testscreen starts at 7pm. You can still buy tickets until the 4th of July to watch the show on demand. You can watch the show on demand until July 7th.
Buyers from the US need to select "Vereinigte Staaten" in the tax information.
Because of several fake events, eventbrite is the only platform to purchase access and stream the show!
https://lebanonhanoverlivestream.eventbrite.de
Enjoy!
Lebanon Hanover, an ice cold reply to the alienated world coming from two warm beating hearts. The duo of Larissa Iceglass and William Maybelline appear as true romantics of the modern age, admiring William Wordsworth, fascinated by the beauty of art nouveau aesthetics, exploring British seashores and forests at night as well as inspired by the urbanism of Berlin.
Facebook II Website II Instagram
Lebanon Hanover sind Larissa Iceglass und William Maybelline, die aufs Wesentliche reduzierten, frostig-minimalen Gitarren/Bass-Wave produzieren. Ein vielseitiges und ideenreiches Duo, das Minimal Synth mit ursprünglichem New Wave und einer gehörigen Portion Post Punk anreichert und veredelt. In der Underground-Szene Europas machten sich Lebanon Hanover schnell einen Namen, nicht zuletzt aufgrund ihrer Live-Shows mit der beeindruckenden Bühnenpräsenz von Sänger William, die ein wenig an die guten alten Zeiten von Joy Division erinnert.
How to watch the stream after purchasing a ticket?
After your ticket order you should get an email with your order confirmation and the event details. The email also contains an orange button labeled as "open online event". After clicking here Eventbrite will open in your browser. Log-In or create and confirm your account. Afterwards you will find the comment event starts in …days. Around one hour before the stream starts we open the stream on the eventpage.
If you have any problems, feel free to call our hotline 0152 34526841 or 0173 6262617 which will be available at the day of the event from 10 am until the concert is over (CET).
Von der Bestellbestätigung zum Livestream:
Nach der Bestellung solltest du eine E-Mail von Eventbrite mit dem Betreff "Auftragsbestätigung..." bekommen. Neben der Bestellzusammenfassung findest du in dieser Mail auch einen orangenen Button, beschriftet mit "Online-Eventseite aufrufen". Wenn du hier drauf klickst wirst du zu der Eventseite des Streaming-Konzerts auf Eventbrite weitergeleitet. Eventuell erscheint hier der Hinweis, dass du keinen Zugang zum Event hast. Dann musst du dich erst mit der bei deiner Bestellung angegebenen E-Mail-Adresse anmelden oder falls noch nicht geschehen ein Eventbrite Konto erstellen.
Bist du erfolgreich bei Eventbrite angemeldet und rufst die Eventseite auf, findest du den Link zum Livestream.
Hier wird am Veranstaltungstag ab ca. 19:00 Uhr ein Testbild mit Ton zur Verfügung stehen, so wollen wir sicherstellen, dass genug Zeit gegeben ist alles zu testen und auszuprobieren. Wenn du hier drauf klickst landest du auf der Videoplattform, auf der der Stream auch eingebettet ist. Das Streaming-Konzert startet um 20:00 Uhr.
Sollte etwas nicht funktionieren, ist es kein Grund zu verzweifeln. Wir haben eine Telefonhotline unter der 0152 34526841 oder 0173 6262617 eingerichtet, die am Veranstaltungstag ab 10:00 Uhr bis zum Konzertende erreichbar ist.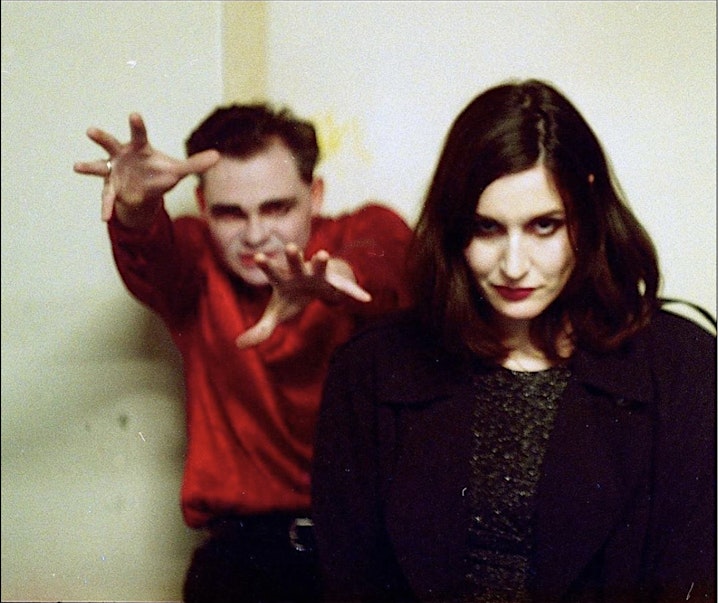 FAQ - english:
Is there any other way to purchase tickets?
No! Tickets are sold exclusively on Eventbrite. You need to log-in or create an account to purchase your ticket and watch the stream. One ticket gains access for one streaming device.
Why isn't the concert for free?
The band, the technicians, crew and anyone else involved in this project is doing it as their main job. We want to present you a high-quality show with professional equipment, multiple cameras and great sound.
Will there be a chance to watch the show afterwards?
Yes, concert will be available for 14 days and you can watch it as often as you want with your ticket.
How can I watch the concert?
The stream is only available via your purchased ticket on Eventbrite. After logging in you have various possibilities:
1. Just stream on your tablet, computer, smartphone, or any other mobile device directly over the Eventbrite ticket you purchased.
2. Connect your TV either with a HDMI-cable or transfer the stream to your smart-TV via app.
3. You can also use Fire-TV-Sticks or similar devices.
Make sure your browser is updated to the newest version as well as your firewall or any other settings are not blocking the stream.
FAQ - german:
Wie genau läuft die Teilnahme ab und wo könnt Ihr Tickets kaufen?
Tickets für das Konzert werden ausschließlich über die Plattform eventbrite.de bereitgestellt! Falls Ihr bei Eventbrite noch keinen Account habt, müsst Ihr Euch ein Account einrichten und darüber das Ticket kaufen. Über den Link in eurer Bestätigungsmail kommt ihr direkt auf die Veranstaltungsseite des Streaming-Konzertes. Hier müsst ihr euch ggf. nochmals mit eurem Eventbrite Account anmelden und eure Registrierung verifizieren.
Ab circa 19:00 Uhr wird ein Test-Stream bereitgestellt, damit Ihr vorab checken könnt, ob bei euch zuhause alles funktioniert. So habt ihr genügend Zeit, um eure Geräte anzuschließen und mit Spannung auf den Konzertbeginn zu warten. Das Konzert startet um 20:00 Uhr.
Das Konzert wird noch weitere 14 Tage auf der Streaming Plattform zur Verfügung stehen und On-Demand abrufbar sein.
Für wen und wie viele gilt ein Ticket?
Wer 1 Ticket kauft, kann das Streaming-Konzert auf einem Empfangsgerät sehen. Wenn ihr also zu zweit in einem Haushalt lebt, und auf einem Smart-TV oder Notebook streamt, reicht ein Ticket aus! Ihr könnt Euch das Konzert gemeinsam anschauen.
Technisch gesehen reicht für die Übertragung auf ein Endgerät jeweils ein Ticket.
Warum ist unser Streaming-Konzert nicht kostenlos?
Die Band, und alle an der Produktion beteiligten üben ihre Tätigkeit professionell aus. Nur dadurch wird die Qualität unserer Show gewährleistet, deren Durchführung hohes zeitliches Engagement und technische und musikalische Expertise erfordert. Müssten die Beteiligten nebenher andere Tätigkeiten ausüben, um ihre Existenz zu sichern, wäre ein Streaming-Konzert in dieser Form nicht möglich. Auch das zur Verfügung stehende Material, Bühne, Instrumente, Tontechnik, Lichttechnik, Kameras, Digitale Technik usw. muss bezahlt werden. Genau wie alle anderen Leistungen in der Wirtschaft, hat auch Musik reale Kosten und einen realen Wert.
Wird es eine Aufzeichnung zum späteren Abruf geben?
Das Streaming-Konzert steht Euch 14 Tage zur Verfügung und ist On-Demand mit eurem Ticketlink abrufbar.
Kann ich das Konzert auf meinem TV-Gerät schauen?
Ein Abspielen des Streams ist nur über die Bestellung auf eventbrite.de möglich. Ihr könnt das Konzert trotzdem auf euren TV-Geräten anschauen, dazu gibt es verschiedene Möglichkeiten:
1. Streamt das Konzert auf eurem Laptop/PC/MAC und verbindet euer Gerät per HDMI-Kabel mit dem Fernseher.
2. Streamt das Konzert auf eurem Tablet oder Smartphone und übertragt euren Bildschirm per entsprechender App auf euren Smart-TV, sofern ihr über ein solches Gerät verfügt.
3. Viele Smart-TV's haben einen internen Browser, über den sich eventbrite.de direkt aufrufen lässt.
4. Über USB-Zusatzgeräte wie bspw. ein "Fire-TV-Stick" oder "Chromecast" lässt sich das Video ebenfalls auf dem TV-Gerät abrufen. WIr empfehlen Google-Chrome oder Safari.
Bitte stellt sicher, dass euer Browser auf der aktuellsten Version ist und eure Firewall oder sonstige Einstellungen den Stream nicht blockieren.
Welche Qualität hat die Übertragung?
Das Konzert wird von geschulten Techniker*Innen in HD gefilmt, in einer Live-Regie geschnitten und per Glasfaserkabel (Gigabit-Geschwindigkeit) gestreamt.
Das Audiosignal wird professionell gemixt und läuft bei der Live-Regie mit dem Bild zusammen. Die Qualität der Übertragung hängt aber auch mit der Internetverbindung der Zuschauenden zusammen.
Wenn Ihr über eine sehr langsame Internetverbindung verfügt, wird das Video herunter gerechnet, damit ihr trotzdem weiterhin flüssig sehen könnt. Bei einer durchschnittlichen, stabilen Internetverbindung steht euch der Stream in HD-Qualität zur Verfügung.