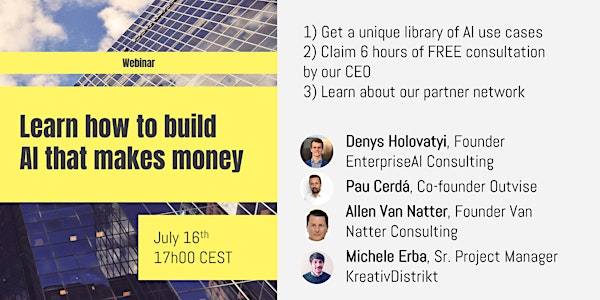 Learn how to build AI that makes money
You can witness a new company being launched - the founder & company partners present an AI demo that makes money!
About this event
👉 Why attend
We will show a full demo of how to take your artificial intelligence idea & transform it into a new service that generates revenue for your company. Your benefits:
Get a unique library of AI use cases for different business functions such as production, customer service, procurement, accounting, marketing.
Claim 6 hours of FREE consultation for your company by our CEO! We will assess the data landscape, screen use case & ROI.
Learn about how we launched the company & our partner network
👉 What is this company launch event about
We will share the story of the company & its vision in this gathering for founders, executives & managers interested in AI, data scientists, and salespeople.
In the live demo, you will see how to use machine learning models to create a new AI offering for your customers. The offering you can sell as a new service!
Our partners are company founders, executives, experts on data science, events, sales. They will deliver practical insights.
👉 Testimonials

👉 Agenda
15 min: Founder presents EnterpriseAI Consulting and how we help companies make money with AI
20 min: Live demo: the creation of a new AI-powered service
15 min: Partners speak about actionable lessons learned
10 min: Special offers for participants & farewell
Don't forget about your AI use case library (example below) & 6 hours of free consultation!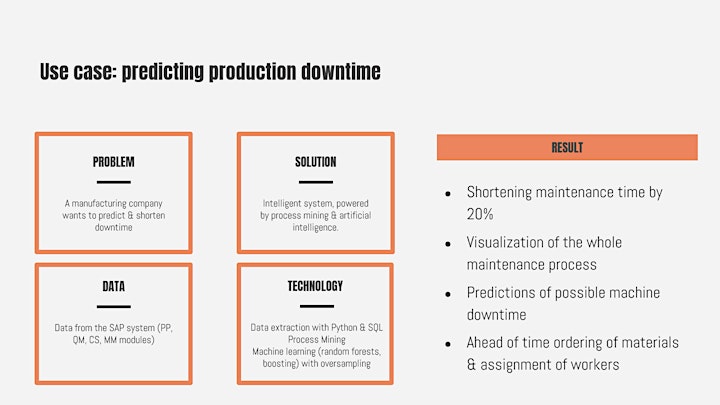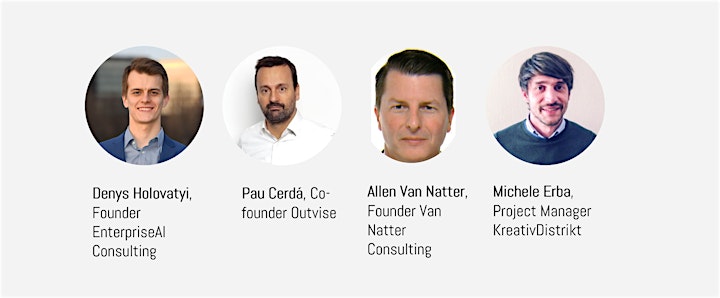 Denys Holovatyi (LinkedIn) - founder & CEO of EnterpriseAI Consulting, ex-Celonis & KPMG.
Completed 30+ data science projects in purchasing, quality management, marketing, sales, ITSM, etc
Helped to establish the AI scene in Munich for nearly 4 years as the founder of "Technology Messenger" community
Pau Cerdá (LinkedIn) - co-founder Outvise, ex-Oliver Wyman.
Founded several digital startups and consulting companies
Advises some major telecom and media groups
Telecom Engineer + MBA at ESADE business school
Allen Van Natter (LinkedIn) - founder Van Natter Consulting, ex-JP Morgan Chase.
20+ years of sales experience and has served as an executive
Focused on helping SMEs and start-ups increase their revenue
Recognized for the ability to train world-class sales professionals
Michele Erba (LinkedIn) - Sr. project manager KreativDistrikt, ex-Siemens.
8+ years of project management experience, both in big companies and startups
Digital advertising professional for lead generation
Builds great online events globally such as hackathons and webinars