Eventinformationen
Veranstaltungsort
hubraum
Winterfeldtstraße 21
10781 Berlin
Germany
Rückerstattungsrichtlinie
Rückerstattungsrichtlinie
Beschreibung
The Lean Startup Night Berlin will be a special event to bring the Lean Startup Community of Berlin together to share knowledge, get inspired and do networking. Speakers from startups and corporate innovation will share their best practices using the Lean Startup methodology creating innovative products and services.
It is the official Berlin pre-event for the Lean Startup Summit Europe in Amsterdam on 20-21st of March 2018. Lean Startup Nights are hosted in 16 European cities by ambassadors and feature a different panel talk, fireside chat or presentation with a mentor from the Lean Startup community and local innovation champions.

Let's connect and swap ideas with one another while learning the nuances of the methodology from our expert network.

Program:
7:30pm Doors Open

7:45pm Speeches
- Lean Startup in Corporate Innovation: Sebastian Neumann, Senior Project Manager etventure GmbH
- Building a Product in the Unknown: Marius Kreis, Co-Founder Elohna / Product Lead + MD at bexio Deutschland GmbH
- Fail forward: lessons for a successful pivot: Thijs Sprangers, Co-Founder & CEO of Live on Demand

8:45pm Networking with drinks and snacks

10pm End
Best regards from the Lean Startup Community Berlin

Mario Schwery, Viola Hoffmann Lean Startup Berlin Meetup
Anil Kumar Krishnashetty Berlin Lean Prototyping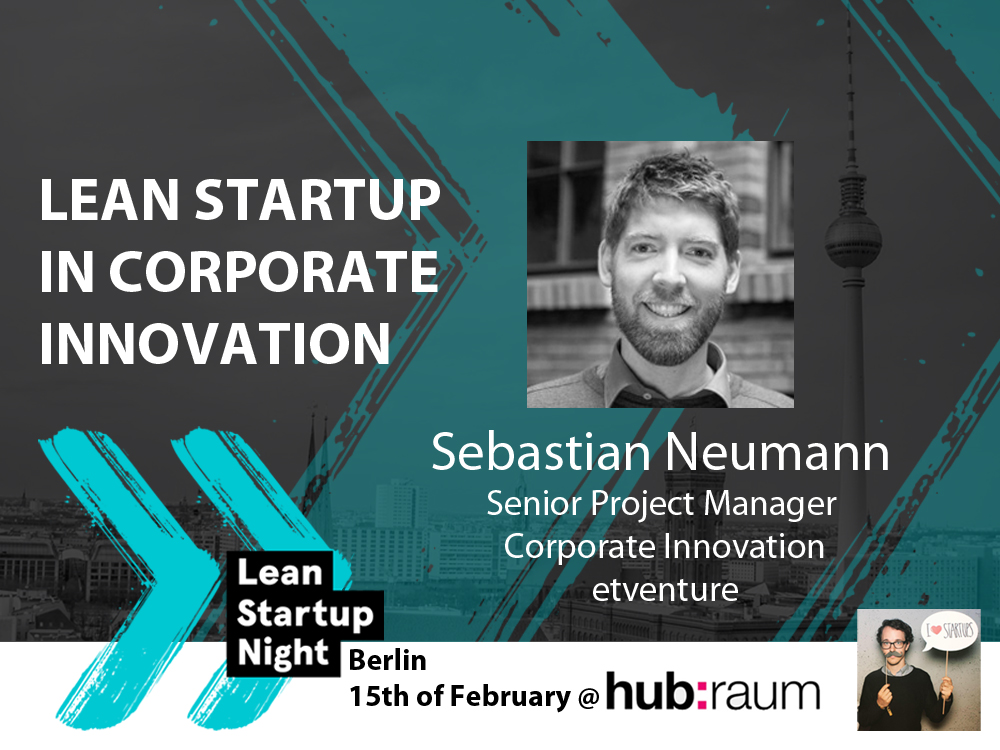 Sebastian Neumann is a Senior Project Manager for Corporate Innovation with etventure. His work experience includes insights into Corporate Entrepreneurship, Digital Strategies, Business Model Innovation and Lean Startup. In his current role he is responsible to oversee the planning and implementation of innovation projects and to build innovation units. Previously, he worked for a small innovation consultancy in Berlin and for a publishing house in Bielefeld. He graduated in Strategic Management (Innovation) at the Dublin Institute of Technology and received a degree from the Hasso Plattner Institute in Design Thinking.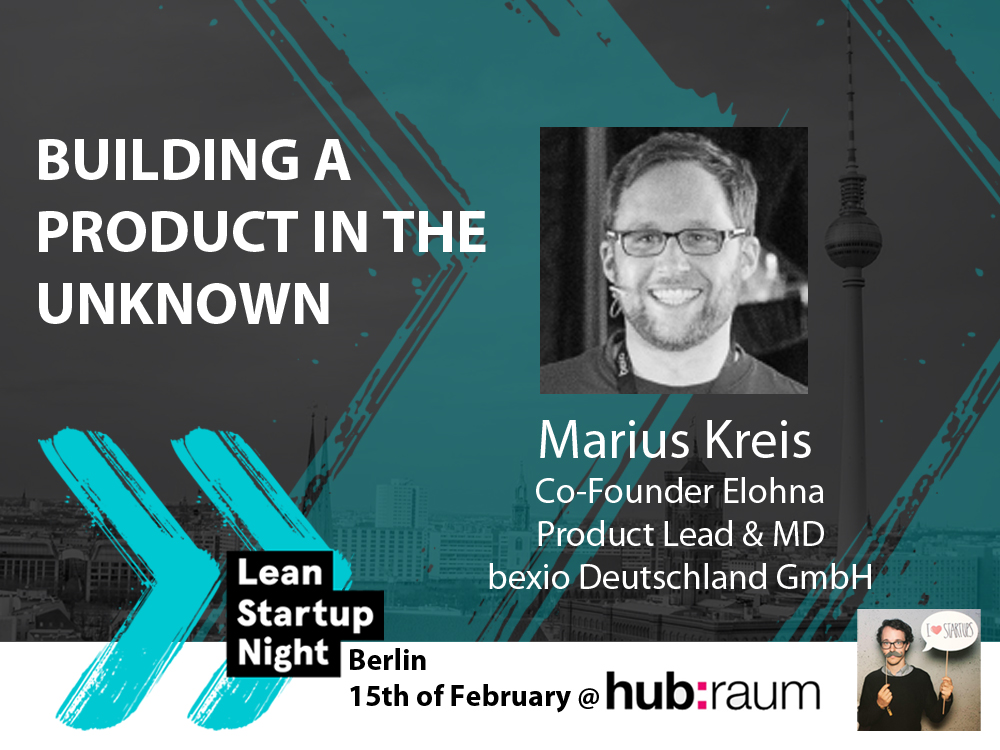 After a traditional career at IBM and Mercedes-Benz, which brought him to Silicon Valley, Marius was inspired to found his own startup Elohna in Berlin. This startup was acquired by bexio after less than a year, since then Marius is heading bexio's Berlin office. Elohna started in 2016 in Berlin developing a SaaS payroll software specifically for Switzerland. The founding team was German and had no prior experience with neither payroll nor Swiss customers. Still the product was successful and in 2017 acquired by bexio, a Swiss Fintech startup proving SaaS business software for SME. In his talk, Marius will talk about how he and his Co-Founders tackled the problem of learning about the payroll regulations, requirements and customer needs while building a product at the same time.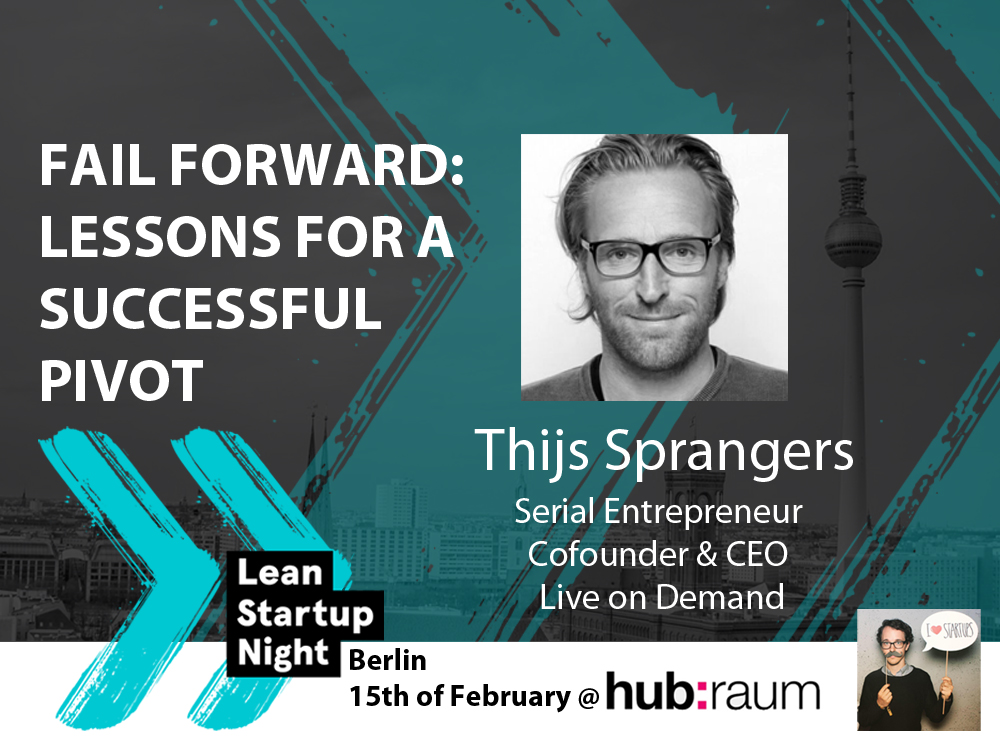 As a serial entrepreneur and experienced corporate innovator, Thijs has practiced experimental innovation in various companies and industries for over 10 years. His failures outscore his successes but he has learned to adapt fast over the years, applying Lean Startup principles in his ventures since 2012. Thijs loves to connect people, create new stuff and coach entrepreneurial talent - the red wires in his activities as entrepreneur, strategist and board member. Currently leading international Lean Startup events, in a partnership of his company Live on Demand & Eric Ries Lean Startup Company.
Datum und Uhrzeit
Veranstaltungsort
hubraum
Winterfeldtstraße 21
10781 Berlin
Germany
Rückerstattungsrichtlinie