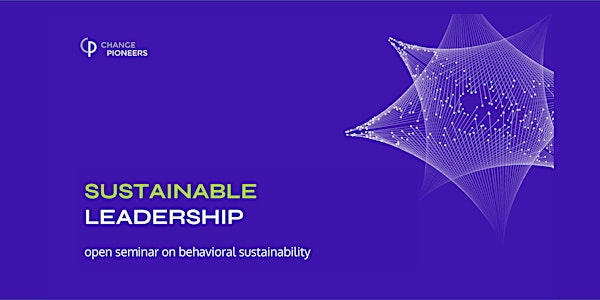 LEADING FOR SUSTAINABILITY
A SEMINAR ON BEHAVIORAL SUSTAINABILITY
When and where
Location
Berghotel Breitenstein Geigelsteinstraße 55 83259 Schleching Germany
About this event
IGNITING AND MANIFESTING A SUSTAINABLE TOMORROW
Sustainable thinking and acting are a contribution to our survival on this planet. We are a crucial part of this ecosystem. And this understanding – on a rational and emotional level – opens an adventurous route to our future. For companies, making a shift to a circular economy is essential - from exploiting the existing resources towards preserving them.
Sustainable leadership offers a new way of thinking and acting - as an approach to tackle the complex challenges ahead. Starting on a personal level, you move towards creating and implementing a new mindset as well as practices that move you and your organization towards an integrated view of this planet.
YOUR BENEFIT
Leading for Sustainability is a core competency of the future. Therefore, you will experience the topic on a personal and collective level. Out of this experience you will develop a vision for sustainability and then elaborate the fields of action where a sustainable future will manifest. Such that the inner glow of those involved will shine through – implementing new principles of leading for sustainability.
FOCUS
Your role as a manager and leader in the process of designing and implementing a sustainability mindset and respective practices in your team, division, or company. From theoretical impulses to the development of organizational prototypes.
TARGET GROUP
Leaders and managers who want to develop and lead organizations towards a sustainability mindset.
METHOD
The learning process contrasts the challenging rhythm of today's organizations on the topic with spaces of insight, reflection, and creation. In this way, you expand your understanding of sustainable leadership in the corporate development.
We work on your concrete situation, and we combine current model with effective and creative options for action as a leader. All based on neuroscientific research for sustainable change.
FORMAT & FEE
Duration: 2,5 days in person
Group Size: 4-12 participants - if the minimum size of 4 participants will not be reached the organizer will postpone or cancel the seminar. Any fees already paid will of course then be refunded.
Experience level: All
Investment: EUR 1.690; Early Bird until 30.11.22. EUR 1.390 (after signing up you recieve an invoice)
Dates: 15.02.23, 16:00h – 17.02.23, 16:00h
Location: Berghotel Breitenstein, Schleching
Your accompanying Change Pioneers: