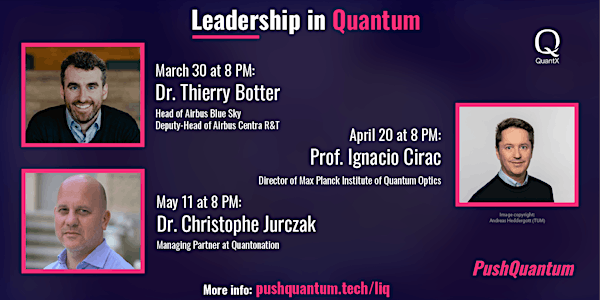 Multiple dates
Leadership in Quantum
Hear about the career path from leaders in the field of quantum!
Date and time
Starts on Tuesday, April 20, 2021 · 11am PDT
About this event
In this series, PushQuantum and QuantX jointly invite various leaders from different fields of quantum to talk about their career. They will highlight how they grew in their career, what motivated them, and what their current job looks like. Every session ends with an open Q&A, to ask all your questions on leadership and career choices!
Schedule:
March 30th: Dr. Christoph Jurczak
April 20th: Prof. Ignacio Cirac
May 11th:
* 19:00: Creative Destruction Lab: From Quantum Research to Quantum Startups
* 20:00: Leadership in Quantum with Dr. Christophe Jurczak
June 22nd: Dr. Noel Goddard