It's Berlin's #1 (and only) English Comedy Show on a Boat. On the Spree. It's Laughing Spree Comedy!
About this event
WE ARE FINALLY BACK ON THE BOAT, EVERYONE!!
It's Berlin's #1 (and only) English Comedy Show on a boat. On the Spree. It's Laughing Spree Comedy!
DUE TO CURRENT RESTRICTIONS WE GOT LIMITED CAPACITY. Because of that we have special seat reservations for 2€ to ensure audience members with this reservation a seat at the show as well as the best seating at the venue.
However, you can still come to the show without a reservation and try your luck that way. But no guarantees that you will get a seat. The only guarantee is a FREE SHOT at the door. :)
*In accordance with the new regulations, we're 2G+ now. So, you will need a proof of full vaccination or recovery PLUS a test or proof of an additional booster shot. Additionally, you need to wear a mask whenever you're not seated.
Berlin's most scenic comedy show will brighten up your evening and make you laugh.
Laughing Spree Comedy is a weekly comedy show, hosted by Chris Doering and Dragos Cristian with an extremely friendly atmosphere and some of Berlin's finest comedians, lots of guest comedians and the occasional first timer.
When? Every Monday, Tuesday & Sunday
Where? The Floating Lounge
When again? doors at 8pm with show start at 8.30pm
Each Comedian has 5-7 minutes to make you laugh.
This is a donation based show with suggested donations of 10-12€. We ask audience members with reservations for a smaller donation of 8-10€.
Seat reservations are only valid till 8.15pm. Please come to the venue before then. No refunds for people who arrive after the show started.
See you buoys and gulls aboard. Keep on laughing!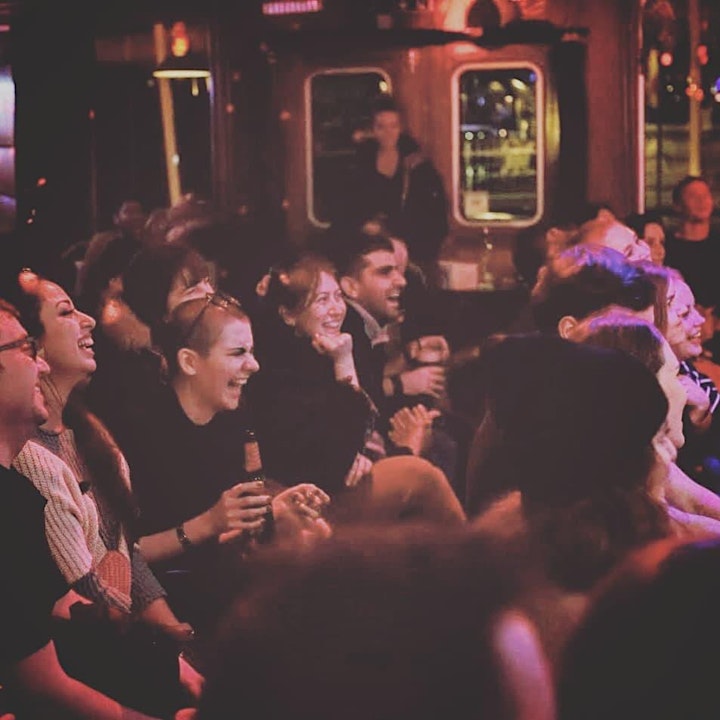 Organiser of Laughing Spree: English Comedy on a BOAT (FREE SHOTS) 25.01.
Former Kabarettist and current Stand-Up Comedian who lives in Berlin. If you enjoy a good Nazi joke followed by fart joke, you might just like this guy. A bit. Maybe. Probably not.
Chris has extensive touring experience all over Europe. He has opened for Anthony Jeselnik and Jim Gaffigan, Andy Haynes, Ian Fidance as well as co-produced Jamali Maddix and Ari Shaffir. He's part of the comedy collectives Propaganda Comedy and The Berlin Offensive, and runs Laughing Spree Comedy, Laughing Bearlin, the Eastern European Comedy Special and Berlin for Dummies.