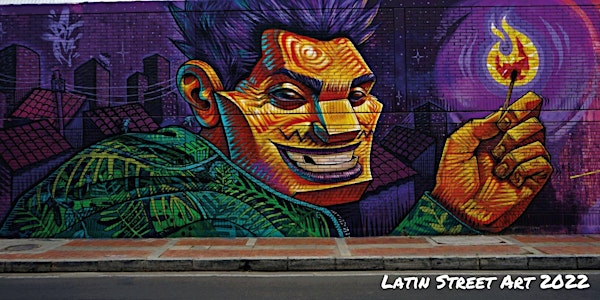 Latin Street Art May & June 2022
Location
Pop Up Gallery
Düsselthaler Strasse 15
40211 Dusseldorf
Germany
Sales Have Ended
Registrations are closed
Tickets have ended for today, but you can check upcoming Saturdays for more available tickets
Unsere Latin Street Art Ausstellung ist zurück! Our Latin Street Art Exhibition is back!
About this event
Jeden Samstag vom 21. Mai bis 25. Juni 2022 präsentieren wir in unserer Pop up Gallery in Düsseldorf-Pempelfort eine Auswahl aus einer Sammlung von mehreren tausend Fotografien.
Graffiti und Street Art sollten für jeden zugänglich sein. Die Eintrittskarten sind kostenlos. Da die gesamte Veranstaltung privat finanziert wird und alle Gewinne an die Künstler gehen, würden wir uns über eine Spende freuen, um die Kosten der Veranstaltung zu decken:
----
After two years of not being able to host our event because of the pandemic, our Latin Street Art exhibition is back!
Come to appreciate the amazing talent of graffiti writers and street artists from Latin countries.
Every Saturday from May 21st till June 25th 2022, in our Pop up Gallery at Düsselthaler Straße 15 – 40211 Düsseldorf, we'll present the exhibition "Latin Street Art : Hustling in the Shadow of Empire." We'll show more than 120 photographs from Colombia, Cuba, Mexico, Spain and Portugal.
A special highlight for the opening (May 21st, 2022) will be the presence of special guest Remixuno, accomplished muralist from CDMX, who will do a piece live during the opening. We'll also exhibit a number of his original canvases.
Due to Corona regulations, day tickets will be limited, so it's important to register in advance and get your ticket. Please understand that we won't be able to allow to you visit without a ticket.
Street art should be accessible to everyone. The tickets are free, but since the whole event is privately funded and all profits will go to the artists, we would appreciate a donation to help us cover the costs of the event.
You can use the donation link below:
Come along, check out the unique imagery of Latin Street Art!