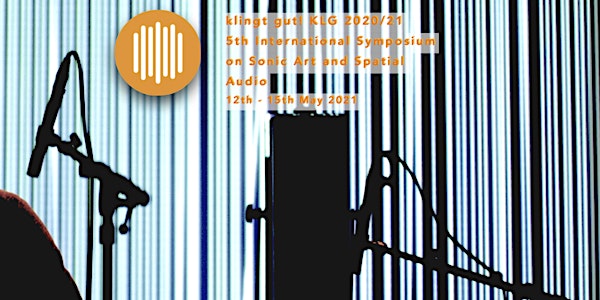 klingt gut! 5th International Symposium on Sonic Art and Spatial Audio
klingt gut 2020/21 is an interdisciplinary event at the intersection of art and technology.
By HAMBURG UNIVERSITY OF APPLIED SCIENCES • Immersive Audio Lab
Date and time
May 12, 2021 · 5am - May 15, 2021 · 1pm PDT
Refund Policy
Contact the organizer to request a refund.
About this event
KLG 2020/21 will have a special focus on sonic art, sound design, electro-acoustic music, spatial audio and extended / digital realities.
12TH - 15TH MAY 2021
ARTS AND MEDIA CAMPUS • HAMBURG UNIVERSITY OF APPLIED SCIENCES
HYBRID EVENT DIGITAL / LOCAL
At klingt gut! Hamburg becomes the center of the international Sound Art Scene. Meet artists and scientists from Australia, Austria, Belarus, Canada, China, Denmark, France, Germany, Greece, Hong Kong, India, Ireland, Italy, Japan, Netherlands, Norway, Poland, Singapore, Slovenia, Sweden, Switzerland, Turkey, United Kingdom, and the United States.
lectures · workshops · installations · concerts · performances · tutorials · screenings
The first event every day starts 14pm CEST/ MESZ (Hamburg, Oslo, Amsterdam, Vienna), 8am UTC-4 (New York, Montreal), 8pm UTC+8 (Beijing, Hong Kong, Singapore) and every day finishes between 9-10pm MESZ. Thereby, please be aware of the timezone differences.
NB! The KLG conference consists of online-live program (lectures in zoom, live-streamed performances, keynotes, roundtable) and of media center. The Media Center will be online already on 5 May. All fixed media content that will not be shown live during the festival will be accessible then. Please pay attention to our program (accessible at http://klingtgut.org/ webpage), as the works exhibited in the Media Center are complemented with 'Meet the Artist' sessions for work presentations and a dialogue with the artists.
The first two days of the conference will overlap with the TENOR conference — the 6th International Conference on Technologies for Music Notation and Representation (TENOR) in Hamburg (Germany) from Monday, May 10 to Thursday, May 13, 2021 hosted by University of Music and Drama (HfMT). The conference will include a special emphasis on Notation and Representation in the Time of a Pandemic. Attendees are able to get free passes when purchasing a ticket for KLG20/21 should they wish to participate in both conferences.
We wish you a pleasant conference experience and hope to develop a dialogue also when online, also when being all over the world and not in the campus, also when each of us in our homes, at front of the screen.