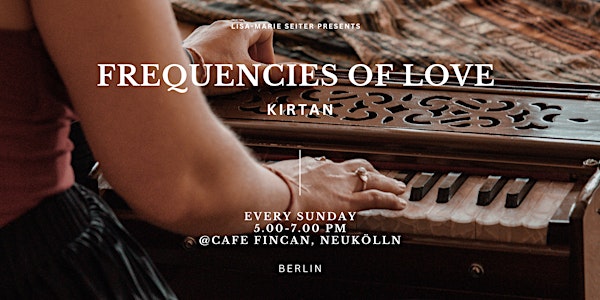 Mehrere Termine
Kirtan I Frequencies of Love
Join us for a sacred evening of mantra, meditation & community. Let's tune into our frequencies of love together!
Datum und Uhrzeit
So., 5. Feb. 2023 17:00 - So., 4. Juni 2023 19:00 CET
Veranstaltungsort
Cafe Fincan Altenbrakerstr. 26 Ecke Nogatstrasse 12051 Berlin Germany
Rückerstattungsrichtlinie
Kontaktieren Sie den Veranstalter, um eine Rückerstattung anzufordern.
Zu diesem Event
Lisa-Marie Seiter, welcomes you all to an evening of love & connection through sacred mantra and mindfulness practices. Join us for kirtan, meditation & community. Let's tune into our frequencies of love together.
The offering:
Candlelight Kirtan / Mantra singing – Meditation – Community – Uplifting Energy – Access to your own deeper wisdom - Spiritual contemplation
This evening is an invitation to tune into your individual and our collective frequency of love through sacred mantra and mindfulness practices. We come together to open our hearts, cultivate love and compassion and connect to the infinite reservoir of joy in our hearts – so that we can all take it away and spread it further: like a ripple effect of love.
Kirtan and mindfulness practices are both great tools to bring out the love and joy within us and let go of the rigid layers that often hold us back from really expressing ourselves fully.
Claiming your voice and letting your body & mind be infused by mantra can be a very liberating and blissful experience that is hard to describe with words. So come and experience it for yourself.
There is no previous experience needed. Mantra sheets & explanations will be provided. You'll be guided through the entire evening by us. All you need is an open heart.
Our journey together:
> Opening circle & intention setting/meditation
> Heart-opening kirtan to tune into our frequencies of love
> Closing circle
Please bring
>Your heart
>Water
So honored to have you in space with us.
Lisa
PLEASE BE ON TIME & DOORS OPEN FROM 4.30PM, WE START 5PM SHARP. _______________________________
Connect with me on Instagram: @lisa.marie.seiter
About the facilitator:
Lisa-Marie Seiter
Lisa found yoga almost 10 years ago and has been on the path ever since. What started with a purely asana-based yoga practice, has evolved into so much more and has now fully become her life.
Over the years, Lisa was fortunate enough to travel and study from various great teachers all over Europe and India which allowed her to explore various aspects of yoga, meditation, mindfulness, embodiment practices as well as ayurveda – but it's especially bhakti yoga, the path of love & devotion that has transformed her heart deeply.
Lisa is driven by the desire for more humanity, more vulnerability and connectedness. She's committed to co-create a world that is more sustainable – for us and the planet. A world in which people can express and develop themselves freely and can connect to their innate qualities of joy and contentment. By doing this they feel nourished and whole and it comes naturally to spread love and share their gifts with others. She believes that everyone deserves a life that is not dominated by productivity and "success", but by how much our hearts are filled
Häufige Fragen
Do I need experience in Kirtan or Bhakti Yoga?
Über den Veranstalter
My spaces invite you to get to know yourself, deeply connect with others and learn how to surrender to that magical force called life. Together, we un-become to bloom from within.