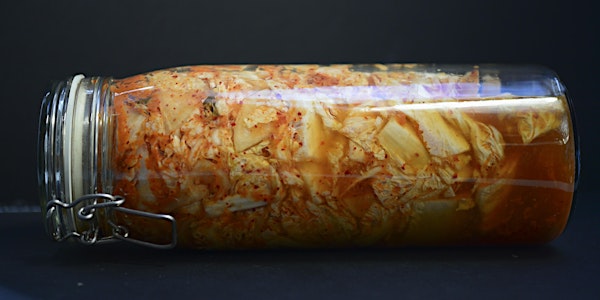 Kimchi, Kraut and Pickles Workshop - SOLD OUT - next 30.10
By Edible Alchemy - Alexis Goertz
Date and time
Thu, Oct 18, 2018 7:00 PM - 9:00 PM CEST
Location
Daheim Manufaktur Dieffenbachstraße 68 10967 Berlin Germany
Refund Policy
Refunds up to 1 day before event
Description
This event is SOLD OUT - the next event is on the 30th of October : https://www.eventbrite.ca/e/kimchi-kraut-and-pickles-workshop-tickets-50323483895
KIMCHI-KRAUT WORKSHOP - The harvests have been made and things are bubbling and souring to perfection.

Our focus tonight is KIMCHI, KRAUT and PICKLES - the living ones of course - using the traditional recipes AND new fusion ideas in order to find your perfect taste and texture that the whole family will enjoy.
Get your tastebuds ready - will we TALKING, EATING, DRINKING, and MAKING delicious probiotic foods - some you'll have never tasted before!
Everyone should come with a curious appetite, creative hands and minds and leave with a jar of delicious, custom made fermented veggies that one can observe and enjoy during the weeks ahead.
Bring: a jar and if you have any veggies that are in surplus from your harvest, lying around the kitchen or fridge that are starting to look sad and unused: zucchini, carrots, onions, peppers, cauliflower, beetroot...etc! (extra jars and veggies will also be provided for our creative uses), and of course your curious tastebuds for the probiotic snack and drink bar!

Contact: alexis@ediblealchemy.co
Spots limited
About the organizer
Have you ever made your own brew? Or kimchi, sauerkraut and miso?
Alexis from Edible Alchemy CoLaboratory knows how to turn food in to gold: the secret is called fermentation! 

In the time of disinfectants, antibiotics and canned food, we forgot about these perfectly probiotic cultures, the valuable vitamins and nutrients they hold and of course their amazing taste! 
Schon mal deine eigene Brause gemacht? Oder Kimchi, Sauerkraut und Miso?
Alexis von Edible Alchemy CoLaboratory weiß, wie man Essen zu Gold verwandelt: Das Geheimnis heißt Fermentation; also die Bakterien einfach ihren Job machen lassen. 

In der Zeit von Desinfektionsmitteln, Antibiotica und Essen aus Dosen haben wir vergessen, dass es durchaus probiotische Kulturen gibt, die uns wertvolle Vitamine und gleichzeitig leckeres Essen bescheren.