Eventinformationen
Veranstaltungsort
Musikbrauerei
Greifswalder Straße 23A
10405 Berlin
Germany
At the end of October, we return to our spiritual home, the 120-year-old historical Musikbrauerei in Prenzlauer Berg.
Zu diesem Event
At the end of October, we return to our spiritual home, the 120-year-old historical Musikbrauerei in Prenzlauer Berg. Tucked away between Greifswalder Straße and the Volkspark Friedrichshain, the former Schneider Brewery is a rare building in Berlin, unspoiled by the tide of gentrification.
► We present the collaborative project between electronic musician and saxophonist Lea Bertucci, and Mexico City based cello-based performer Mabe Fratti.
→ natural non-conformist, Mabe Fratti is a Guatemalan-born cellist now based in Mexico City. She creates delicate and deeply intimate soundscapes using only synthesiser, vocals, and her cello. Through her hypnotic and captivating performance, Mabe sews contemporary elements like shoe gaze and art pop with ancestral influences that go from Gregorian chants to Sephardi music.
→ Lea Bertucci on tapes and electronics finds new territory in extending the sonic possibilities of the human voice through electronic manipulation and improvised tactics. Influenced equally by jazz, Carnatic, and western classical vocal techniques, she takes a freely improvised approach. For the astute listener, the explorations may conjure a real-time version of postwar musique concrete or the groundbreaking experiments of live electronics pioneer Pauline Oliveros' tape improvisations.
Last season, our shows sold out quickly, so we recommend securing your tickets early to avoid disappointment. Do not buy second-hand tickets from strangers – there are scammers around. As part of our safety first policy, tickets are only available via Eventbrite. There is no box office or guest list. Due to the pandemic, changes may be made at short notice. In the event of any changes, we will inform you by E-Mail.
The Kiezsalon has offered a forum for innovative musical activity beyond genre boundaries. As an interface between avant-garde, advanced pop music and interdisciplinary art, the series presents compact shows of 30 minutes by artists of diverse genres, origin and status.
Please be aware that format of the event and venue arrangements have been adapted to maximize safety, and we have created a strict Kiezsalon hygiene and safety policy.
The Kiezsalon is a project by Digital in Berlin, curated by Michael Rosen and funded by Senate Department for Culture and Europe.
Photo © Musikbrauerei by Roland Owsnitzki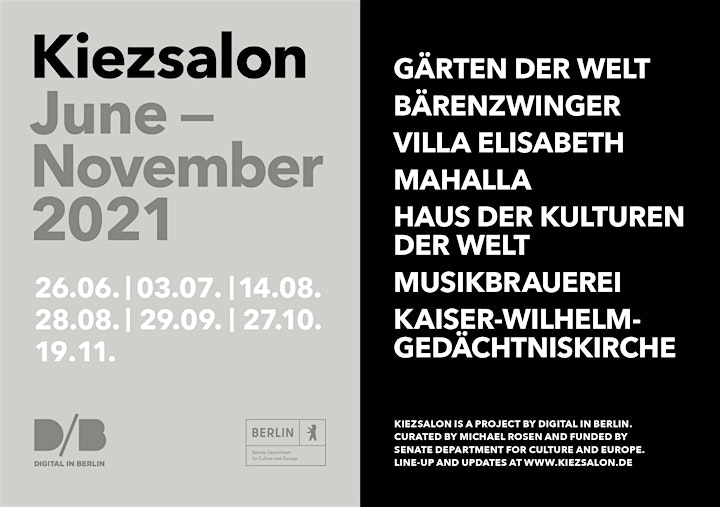 Datum und Uhrzeit
Veranstaltungsort
Musikbrauerei
Greifswalder Straße 23A
10405 Berlin
Germany
Veranstalter von Kiezsalon w/ Mabe Fratti and Lea Bertucci at Musikbrauerei
Digital in Berlin is a curated platform for cultured music between avant-garde, pop culture and interdisciplinary arts. For 12 years and with almost 5000 announcements, we have been Berlin's musical archive, reflecting the diversity of the scene. D/B supports, advises and develops collaborative cultural offerings, creates visibility for sectoral and cross-sectoral events and helps to make better economic use of cultural and artistic potential. As a media partner, we support selected concerts, festivals and series.
Since 2010 we programming concerts in many places in Berlin. Since 2015 mainly under the name Kiezsalon at the historical Schneider brewery. Following six exciting years, the Kiezsalon has established itself as one of the most popular and successful series in Berlin, so far hosting more than 130 acts from 35 countries.