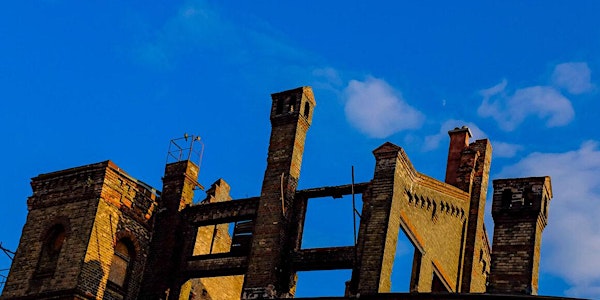 Kiezsalon w/ Holland Andrews, Passepartout Duo and Dylan Henner
On Saturday October 8 we'll be back at Prenzlauer Berg's Musikbrauerei for the final Kiezsalon of the year.
Zeit und Ort
Veranstaltungsort
Musikbrauerei Greifswalder Straße 23A 10405 Berlin Germany
Karte und Wegbeschreibung
Rückerstattungsrichtlinie
Zu diesem Event
On Saturday October 8 we'll be back at Prenzlauer Berg's Musikbrauerei for the final Kiezsalon of the year. Be sure not to miss out on three amazing performances from talented American vocalist, composer and performer Holland Andrews, the premiere of Italian piano and percussion outfit Passepartout Duo, and young UK ambient producer Dylan Henner.
The 120-year-old Musikbrauerei—the former Schneider Brewery—is the spiritual home of the Kiezsalon series. Hidden away between bustling Greifswalder Straße and the pleasant Volkspark Friedrichshain, it's a rare building in Berlin, unspoiled by the tide of gentrification.
Holland Andrews (they/them) is an American vocalist, composer, and performance artist whose work focuses on the abstraction of operatic and extended-technique voice to build soundscapes encompassing both catharsis and dissonance. Andrews previously performed solo under the stage name Like a Villain and composed music for dance, theater, and film. In 2020 they moved to New York City to participate in the ISSUE Project Room 2020 residency program.
Pianist Nicoletta Favari and percussionist Christopher Salvito make up the Passepartout Duo. The instrumental compositions and evocative music videos that make up their body of work are all influenced by their travels across the world, and DIY instruments play a vital role in their releases. Vis-à-Vis, the group's 2020 album release, features compositions written for a portable handmade instrument that accompanied the duo during a month-long train journey across Central Asia.
In 2020, UK producer Dylan Henner asked his computer "what do you think a human sounds like?", and used the subsequent concept of man versus machine to build his first full length album The Invention of The Human. It's one of our favourite recordings from that year, featuring a brilliant collection of drones and synthesized vocals. "Combines the synthetic inventiveness of Sophie and Arca with Grouper's spectral drones and the beatific simplicity of Arvo Pärt's post-minimalist compositions." (Bleep.com, top 50 albums of the year 2020).
More info: digitalinberlin.de / Facebook Event / Map
__Last season, our shows sold out quickly, so we recommend securing your tickets early to avoid disappointment. Do not buy second-hand tickets from strangers – there are scammers around. As part of our safety first policy, tickets are only available online. There is no box office or guest list. Due to the pandemic, changes may be made at short notice. In the event of any changes, we will inform you by E-Mail. Please be aware that format of the event and venue arrangements have been adapted to maximize safety, and we have created a strict Kiezsalon hygiene and safety policy.