Dieses Event ist beendet.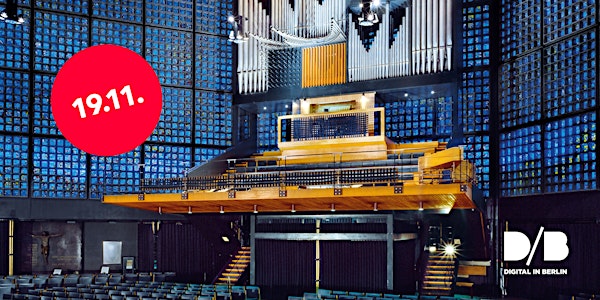 Kiezsalon w/ Anna von Hausswolff at Kaiser-Wilhelm-Gedächtniskirche
The last Kiezsalon will be in November at Charlottenburg's nineteenth-century Kaiser-Wilhelm-Gedächtniskirche.
Zeit und Ort
Veranstaltungsort
Kaiser Wilhelm Memorial Church Breitscheidplatz 10789 Berlin Germany
Karte und Wegbeschreibung
Rückerstattungsrichtlinie
Kontaktieren Sie den Veranstalter, um eine Rückerstattung anzufordern.
Zu diesem Event
The final Kiezsalon of 2021 will take place at the impressive Kaiser-Wilhelm-Gedächtniskirche, located at Kurfürstendamm, in the centre of the Breitscheidplatz.
► For our grand finale, we have invited Swedish singer and organist Anna von Hausswolff. She plays our Kiezsalon special as part of her ambitious solo pipe tour across Europe, what she calls a "great experiment", with 17 unique organs for 17 unique concerts in 17 unique venues.
→Anna von Hausswolff is a musician and composer performing on pipe organs all over the world. Her polyrhythmic sound is often distinguished by fluid transitions between calmness and drama, harmony and dissonance, with various overlapping elements. Anna has written and released five full-length albums including the celebrated solo pipe organ album 'All Thoughts Fly' (2020). Anna was invited by ​Nils Frahm​ to perform his curated event 'Possibly Colliding' at the Barbican and by D​avid Byrne​ to perform at his curated Meltdown festival at Southbank Centre. Her soundtrack for the documentary 'The Most Beautiful Boy In The World' has been nominated for an award for Sundance Film Festival 2021.
A wonder of design with almost 6,000 pipes, the organ at Gedächtsniskirche - a significant work of Karl Schuke - is one of the largest in the city, and it will be the centrepiece of a very special Kiezsalon 2021 finale.
According to the new 2G rule from the Berlin Senate, only those vaccinated or recently recovered are permitted to attend our last indoor Kiezsalon. Due to the high amount of ticket requests, and to give more people the chance to see the show, there are two separate concert sessions at 20:00 and 21:15 CET. You will receive your timetable with your tickets via Eventbrite 48 hours before the show.
Please note, the Kiezsalon ticket will include only one Anna von Hausswolff show of 30 minutes. Due to the elaborate production, there will be no second concert/support act.
Last season, our shows sold out quickly, so we recommend securing your tickets early to avoid disappointment. Do not buy second-hand tickets from strangers – there are scammers around. As part of our safety first policy, tickets are only available via Eventbrite. There is no box office or guest list. Due to the pandemic, changes may be made at short notice. In the event of any changes, we will inform you by E-Mail.
The Kiezsalon has offered a forum for innovative musical activity beyond genre boundaries. As an interface between avant-garde, advanced pop music and interdisciplinary art, the series presents compact shows of 30 minutes by artists of diverse genres, origin and status.
Please be aware that format of the event and venue arrangements have been adapted to maximize safety, and we have created a strict Kiezsalon hygiene and safety policy.
The Kiezsalon is a project by Digital in Berlin, curated by Michael Rosen and funded by Senate Department for Culture and Europe.
Photo © Sebastian Rost