Eventinformationen
Veranstaltungsort
MaHalla
Wilhelminenhofstraße 76
12459 Berlin
Germany
At the end of August, we will present three different concerts at MaHalla in Oberschöneweide.
Zu diesem Event
Our August at MaHalla will be held in the vast, 3000 qm former turbine hall, once part of the AEG (General Electricity Company). The colossal turbine hall is located in the historic industrial landscape southeast of Berlin that inspired Fritz Lang's iconic masterpiece 'Metropolis'.
We are happy to have added Polish multi-instrumentalist composer Waclaw Zimpel to the line-up. Unfortunately, due to travel restrictions, Amanar will no longer perform at this event. We hope to bring them back in 2022.
► We are happy to present the Berlin premiere of Polish free jazz multi-instrumentalist Waclaw Zimpel, storying telling electronic music composer Hüma Utka, and Serge Modular synthesizer mastermind Thomas Ankersmit.
→Waclaw Zimpel made a name for himself playing free jazz with international leaders, first gaining traction from within the of the Polish new jazz scene; his versatility led him to naturally explore musical traditions like minimalism, Indian & Moroccan gnawa. Zimpel's works continue to excavate the use of analogue electronic instruments and ultimately swapping jazz clubs for key electronic music festivals.
→Hüma Utku, a Berlin based İstanbulite, is an electronic music composer and sound artist. Utku combines her musical practice with her academic studies in psychology through her works drawing inspiration from human condition, psychology and folklore. With an overall disregard for genres, she utilises melody and sound as tools for storytelling. Her 2018 release "Şeb-i Yelda" EP and her 2019 debut album "Gnosis", via Karlrecords, earned Utku recognition for her unique approach of storytelling through electronic music. Utku has been selected as a SHAPE 2021 artist.
→Thomas Ankersmit is a musician and sound artist based in Berlin and Amsterdam. He plays the Serge Modular synthesizer, both live and in the studio, and collaborates with artists like Phill Niblock and Valerio Tricoli. His music is released on the Shelter Press, PAN, and Touch labels, and combines intricate sonic detail and raw electric power, with a very physical and spatial experience of sound. Acoustic phenomena such as infrasound and otoacoustic emissions (sounds emanating from inside the head, generated by the ears themselves) play an important role in his work, as does a deliberate, creative misuse of the equipment.
Last season, our shows sold out quickly, so we recommend securing your tickets early to avoid disappointment. Do not buy second-hand tickets from strangers – there are scammers around. As part of our safety first policy, tickets are only available via Eventbrite. There is no box office or guest list. Due to the pandemic, changes may be made at short notice. In the event of any changes, we will inform you by E-Mail.
The Kiezsalon has offered a forum for innovative musical activity beyond genre boundaries. As an interface between avant-garde, advanced pop music and interdisciplinary art, the series presents compact shows of 30 minutes by artists of diverse genres, origin and status.
Please be aware that format of the event and venue arrangements have been adapted to maximize safety, and we have created a strict Kiezsalon hygiene and safety policy.
The Kiezsalon is a project by Digital in Berlin, curated by Michael Rosen and funded by Senate Department for Culture and Europe.
Photo © MaHalla GmbH Co. KG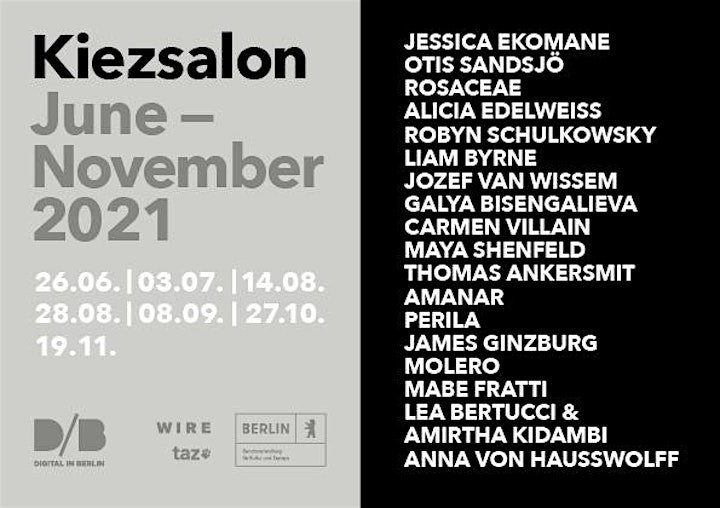 Datum und Uhrzeit
Veranstaltungsort
MaHalla
Wilhelminenhofstraße 76
12459 Berlin
Germany
Veranstalter von Kiezsalon at MaHalla
Digital in Berlin is a curated platform for cultured music between avant-garde, pop culture and interdisciplinary arts. For 12 years and with almost 5000 announcements, we have been Berlin's musical archive, reflecting the diversity of the scene. D/B supports, advises and develops collaborative cultural offerings, creates visibility for sectoral and cross-sectoral events and helps to make better economic use of cultural and artistic potential. As a media partner, we support selected concerts, festivals and series.
Since 2010 we programming concerts in many places in Berlin. Since 2015 mainly under the name Kiezsalon at the historical Schneider brewery. Following six exciting years, the Kiezsalon has established itself as one of the most popular and successful series in Berlin, so far hosting more than 130 acts from 35 countries.