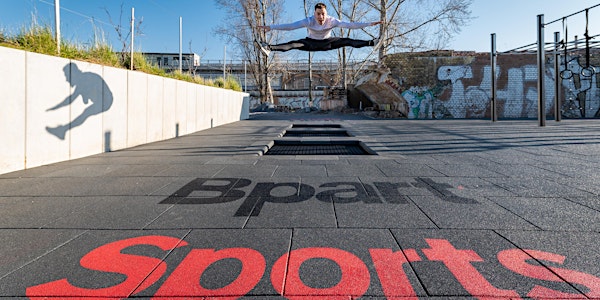 Kiez-Training: Circuit Training
Kostenloses Workout im B-Part Am Gleisdreieck
When and where
Location
B-Part Am Gleisdreieck Luckenwalder Straße 6b 10963 Berlin Germany
About this event
Als Ort der Zusammenkunft für alle urbanen Gemeinschaften fördert die Urbane Mitte an ihrem Pionierprojekt B-Part Am Gleisdreieck Sportangebote für ein gesundes und tolerantes Miteinander – alle Menschen sollen zusammenkommen und Nachbarschaft aktiv gelebt werden.
Der Sportbotschafter der Urbanen Mitte Am Gleisdreieck, Turnlegende Philipp Boy, hat das Kiezprogramm sorgfältig mit dem Fokus auf ein ganzheitliches Training für Body und Mind zusammengestellt. Unter dem Motto "Bewegung für alle" richten sich die vielseitigen Kurse an unterschiedliche Alters- und Fitnessgruppen und sind für alle Teilnehmenden kostenfrei! Die Trainingseinheiten sind auf Beweglichkeit, Ausdauer, Kraft und vor allem auf Spaß an Bewegung ausgelegt und werden von Philipp Boy als Coach geleitet.
Circuit Training
Die RENAISSANCE DES ZIRKELS.
Das B-Part-Sports bietet durch die Vielfalt an Geräten die idealen Voraussetzungen für ein funktionelles Zirkeltraining an. In 60 Minuten durchlaufen die Teilnehmer unterschiedliche Stationen, die Kraft, Ausdauer, Schnelligkeit, Bewegung und Koordination schulen. Zum Einsatz kommen u. a. die Klimmzugstangen, Ringe, Stepboxen und das eigene Körpergewicht. Jede Station trainiert eine andere Muskelgruppe. Es geht darum, gemeinsam in einer kleinen Kleingruppe Seite an Seite zu kämpfen, Spaß zu haben und gemeinsam Erfolge zu feiern.
Für alle Altergruppen geeignet
Mitzubringen sind Turnschuhe, Getränk, Handtuch, evtl. Handschuhe
Max. Teilnehmerzahl: 20 Personen
! Grundvoraussetzung: keine körperlichen Beeinträchtigungen sowie akuten Verletzungen.
_________
As a meeting place for all urban communities, the Urbane Mitte promotes sports activities for a healthy lifestyle and tolerance with one another at its pioneering project B-Part Am Gleisdreieck - for all people to come together and neighborhoods to connect.
The sports ambassador of the Urbane Mitte Am Gleisdreieck, gymnastics legend Philipp Boy, has carefully put together the neighborhood sports program with a focus on holistic training for body and mind. Under the motto "Exercise for all," the versatile courses are aimed at different age and fitness groups and are free of charge for all participants! The training units are designed for flexibility, endurance, strength and above all, the fun of movement and are led by Philipp Boy.
Circuit Training
The B-Part-Sports is a great place for circuit training due to the variety of equipment. In 60 minutes, participants go through different stations that train strength, endurance, speed, movement and coordination. Equipment used includes pull-up bars, rings, step boxes and the participants' body weight. Each station trains a different muscle group. The point is to fight side by side in a small group, have fun and celebrate successes together.
Suitable for all age groups
Bring sneakers, drink, towel, possibly gloves
Max. Number of participants: 20 persons
! Basic requirement: no physical impairments and acute injuries.