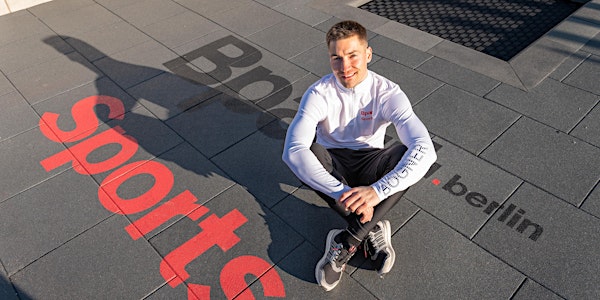 Kiez Training: Bodyfit
Kostenloses Workout im B-Part Am Gleisdreieck
When and where
Location
B-Part Am Gleisdreieck Luckenwalder Straße 6b 10963 Berlin Germany
About this event
Als Ort der Zusammenkunft für alle urbanen Gemeinschaften fördert die Urbane Mitte an ihrem Pionierprojekt B-Part Am Gleisdreieck Sportangebote für ein gesundes und tolerantes Miteinander – alle Menschen sollen zusammenkommen und Nachbarschaft aktiv gelebt werden.
Der Sportbotschafter der Urbanen Mitte Am Gleisdreieck, Turnlegende Philipp Boy, hat das Kiezprogramm sorgfältig mit dem Fokus auf ein ganzheitliches Training für Body und Mind zusammengestellt. Unter dem Motto "Bewegung für alle" richten sich die vielseitigen Kurse an unterschiedliche Alters- und Fitnessgruppen und sind für alle Teilnehmenden kostenfrei! Die Trainingseinheiten sind auf Beweglichkeit, Ausdauer, Kraft und vor allem auf Spaß an Bewegung ausgelegt und werden von Philipp Boy als Coach geleitet.
Bodyfit
Wer gerne Bauch, Beine und Po definieren möchte, ist beim Bodyfit genau richtig. Während eines intensiven Ganzkörperprogramms werden vor allem die Bereiche Bauch, Beine und Po stark trainiert. Ein herausforderndes Workout, dass ein herausragendes Gefühl danach verspricht. Let's crush it!
Für alle Altergruppen geeignet
Mitzubringen sind Turnschuhe, Getränk, Handtuch, Matte
! Grundvoraussetzung: keine großen körperlichen Beeinträchtigungen so wie akuten Verletzungen
_________
As a meeting place for all urban communities, the Urbane Mitte promotes sports activities for a healthy lifestyle and tolerance with one another at its pioneering project B-Part Am Gleisdreieck - for all people to come together and neighborhoods to connect.
The sports ambassador of the Urbanen Mitte Am Gleisdreieck, gymnastics legend Philipp Boy, has carefully put together the neighborhood sports program with a focus on holistic training for body and mind. Under the motto "Exercise for all," the versatile courses are aimed at different age and fitness groups and are free of charge for all participants! The training units are designed for flexibility, endurance, strength and above all, the fun of movement and are led by Philipp Boy.
Bodyfit
If you like to define your abdomen, legs and buttocks, Bodyfit is the right choice for you. During an intensive full-body program, especially those areas will be strongly trained. A challenging workout that promises an outstanding feeling afterward. Let's crush it!
Suitable for all age groups
Bring sneakers, drink, towel, mat
! Basic requirement: no physical impairments and acute injuries.