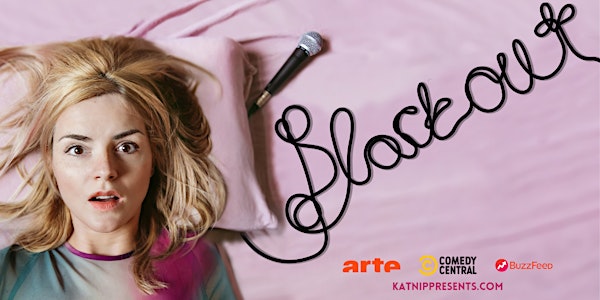 Kat Nip presents: BLACKOUT | Helsinki | English comedy special with a twist
Kat wakes up in a stranger's apartment with an almighty hangover and no recollection of the night before. What happened? Tuesday in Berlin
Date and time
Wed, 23 Aug 2023 20:00 - 22:00 EEST
Location
Botta Oy Ab 10 Museokatu 00100 Helsinki Finland
Refund Policy
Contact the organiser to request a refund.
About this event
WHAT'S THE SHOW ABOUT?
Kat wakes up in a stranger's apartment with an almighty hangover and no recollection of the night before. What happened? Tuesday in Berlin, that's what. Help solve this zigzagging mystery and join Kat on a ludicrous rollercoaster journey through last night's shenanigans. What could three wrist stamps, a haiku and a half-eaten döner kebab possibly reveal?
WHAT IS… A BLACKOUT?
'BLACKOUT' (Urban Dictionary) - Blackout is the term used to describe when a person is so drunk that they wake up the next morning with temporary amnesia, no recollection of what they did the night before.The only time travel known to man.
I black out last night at jim's and came to at my house at noon.
WHO'S THAT GIRL?
Kat is a Polish stand-up comedian based in Berlin. She performed all over the world; Cape Town, London, Buenos Aires, Barcelona, Vienna and Bangkok to name a city or six.
Kat's been called a 'Polish Joan Rivers', 'joke kalashnikov' and 'my favourite' (no, not by her mum). Her energetic, fast-paced storytelling is jam-packed with unexpected punchlines, brutal honesty and a sprinkle of Eastern European pizzazz. Buckle up, it's a rollercoaster!
Winner of all London gong shows - at Comedy Store, Blackout, Backyard, Vauxhall and Top Secret. She wrote for and acted in Comedy Central PL "Mini-Mocks" series in 2022 & 2023. You might've spotted her on ARTE TV and Buzzfeed UK too!
Kat hosts and produces a variety of shows in Berlin with her female collective "Queen Bees Comedy". In 2021 she brought her debut solo 'Liability' to Europe, Edinburgh Fringe & Tallin Fringe Festival - and Tokyo and Rio!
WHEN AND WHERE?
Wednesday August 23
Doors open: 7:00 PM
Show starts 8:00 PM
About the organiser
Kat is a comedian and a catholic-turned-alcoholic from Poland whose main hobbies include alcohol 'research', chain-smoking filterless Lucky Strikes and grooming younger, preferably ginger, men.
Kat's based in Berlin, but performed all around and some of it was even comedy. She hosts an open mic 'Comedy Roulette', speed dating comedy night 'Funny Affair and Womxn show 'That's What She Said'.