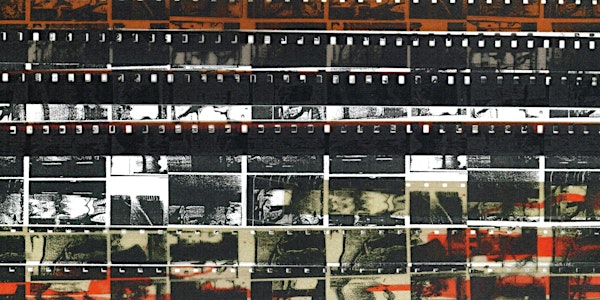 Multiple dates
KAMERA SERIES N° 7 | SERGEJ VUTUC
KAMERA is back for the third year with a new screening program and exhibition of moving images, works and artists' books.
Date and time
Fri, 10 Mar 2023 18:00 - Wed, 15 Mar 2023 20:00 CET
Location
Labor Neunzehn Kiefholzstr.19/20 2.HF 4.OG Raum 11/12 12435 Berlin Germany
About this event
KAMERA SERIES | EXPERIMENTAL FILMS AND PRINTED MATTER
KAMERA is back for the third year with a new screening program and exhibition of moving images, video art works and artists' books in a former GDR building in Berlin, focusing on critical exchanges about contemporary image.
KAMERA CAHIER is an artists' booklet to be published in a special edition issue for each event.
KAMERA N°7
SERGEJ VUTUC
11 – 15 March (Sunday closed)
2 – 6 pm
opening and book launch of KAMERA CAHIER N°7
Friday, 10 March from 6 pm
w/super8 and 16mm film projectors
LIVE PERFORMANCE, 8 PM
Wednesday, 15 March 8 pm:
finissage w/super8 and 16mm film projectors live performance
LABOR NEUNZEHN
Kiefholzstr. 19/20
12435 Berlin
2nd backyard | 4th floor | room 11/12
FREE ENTRY
PROGRAM https://kamera-series.com/index.php/kamera-n7/
UPDATES @avarie.publishing | @laborneunzehn
#kameraseries #kameracahiers
BIO
Originally from the former Yugoslavia, Sergej Vutuc has been engaged in the punk and skateboarding community since the mid 90's, driven towards DIY ethics and alternative cultures. His work begins by documenting the (over)development of modern society and the privatization of public space and leads into the exploration of image, through photography and photocopy, motion and sound, human happenings such as performances, art book events and exhibitions, or book productions. The machine is a tool rather than a technique: photocopiers become musical instruments, noise emerges as a publication or encounters the visual in super 8 and 16mm films.
Vutuc lives in Paris where his most recent enterprise consists in encouraging print and physical productions under the name A La Maison Printing.
For a selection of his performances, exhibitions and publications, please follow this link www.sergejvutuc.com
KAMERA is a series curated by
AVARIE| a Paris-Berlin based independent publisher, specializing in contemporary art books and exploring the relationship between texts and images, body and space.
LABOR NEUNZEHN is an artist-run project engaged in a cross-disciplinary discourse on time-based-art that involves expanded cinema, modern music, publishing, and the critical reflection in media art.
KAMERA is kindly supported by Dezentrale Kulturarbeit Berlin-Treptow.
© films by Sergej Vutuc
About the organiser
Labor Neunzehn is a small two-room atelier located on the 4th floor of a former factory in Berlin-Treptow with a focus on musical composition, philosophy and expanded cinema. Besides the regular use for work purposes, the atelier is employed on an irregular basis as an independent curatorial platform and a non-profit space for the production and presentation of artistic projects, exhibitions, screenings, workshops or collaborative research works.
Labor Neunzehn is devoted to three main curatorial programs.
The "Exhibition Series" aims to explore the use of sound and visual materials as a media for critique and reflection about politics, society and culture today.
The film screening program "Kamera" presents avant-garde films and experimental documentaries in a continuous thematic row within particular time-frames.
"Cluster" aims to discuss the practices of notation and recording at the intersection point between composition, performance and the listening experience through a number of laboratories and open rehearsals that address new music and instrumental research.