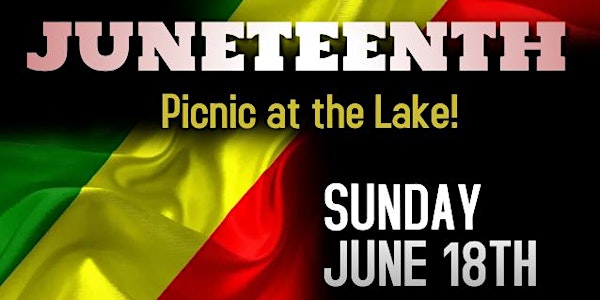 Juneteenth Picnic at the Lake
This picnic and party is for members of the Afro-Diaspora, BIPOC´ s their families and our friends. Our motto is, "We Are Better Together"!
Date and time
Starts on Sunday, June 18 · 12pm CEST
Location
Strandbad Plötzensee Nordufer 26 13351 Berlin Germany
Refund Policy
Refunds up to 7 days before event
About this event
English
In recognition of the American holiday Juneteenth, there will be a picnic celebration in Berlin on 18 June 2023 at Strandbad Plötzensee. This picnic is for members of the Afro diaspora, BIPOC their families and "all of our friends". Our motto is: "We are better together"! Every race, nationality and religion are welcome .
African diaspora populations include but are not limited to: African Americans, Afro-Caribbeans, Afro-Latin Americans, Black Canadians – descendants of enslaved West Africans brought to the United States, the Caribbean, and South America during the Atlantic slave trade.
Afro-American/Caribbean grilled foods. Everyone is welcome to bring their own food and drinks (no glass/alcohol) or you can get food and drinks at the picnic for a donation.
"We have seperate grills for pork and vegan foods"! Our foods are culturally 100% original! No fakes!
We have a very nice family oriented program with live and DJ music, original cultural foods and games.
Beach Celebration from 20.00h. Amapiano, Afro Beats, House, RnB, Hip Hop
We request that our guests buy tickets online in advance, we will make the food purchases based on the actual first 400 online ticket sales. Those guests will receive event armbands and have guaranteed access to all Juneteenth food sales, activities and entertainment.
Strandbad Plötzensee guest that buy tickets at the location won´t be allowed to buy food from the Juneteenth stand(s) until online ticket buyers have been served. They cannot actively participate in any Juneteenth activities other than swimming and the Beach Party. This decision is because of the high costs of food and labor. There will be other food vendors there from the lake, but none associated with our style of foods. This is a 100% nonprofit event.
Games:
• Horse Shoes
• Corn Hole
• Tug of War
• 3 Legged Race
• Potato Sack Race
• Limbo Contes
• Spoon and Egg Race
• NFL Football Kick & Throw
• Soccer (Fußball) Ball Goal Kick
**Watermelon Eating Contest
Our grill menu:
Southern Smoked BBQ Ribs
Spicy Creole Burgers
Cajun Chicken Wings
New York Style Hot Dogs
Grilled Vegetables
Side Dishes:
Potato Salad, Cole Slaw, Mac and Cheese, Watermelon
Desert: Red Velvet Cake Cupcakes with Cream Cheese
Drinks: Watermelon / Strawberry Slush, White & Rose Wine, Beer and Water. Alcohol free is also included.
This event is being coordinated for the non-profit Afro-Diasporians e.V.i.G. organization.
Contact: berlinmusic@hotmail.com
Deutsch
Anlässlich des amerikanischen Feiertags Juneteenth findet am 18. Juni 2023 ein Picknick in Berlin am Strandbad Plötzensee statt. Dieses Picknick richtet sich an Mitglieder der Afro-Diaspora, BIPOC, ihre Familien und alle unser Freunde. Unser Motto lautet: "We Are Better Together" (Gemeinsam Sind Wir Besser)! Jede Rasse, Nationalität, Religion und soziale Orientierung sind willkommen.
Zu den afrikanischen Diaspora-Bevölkerungen gehören unter anderem: Afroamerikaner, Afro-Karibiker, Afro-Lateinamerikaner, schwarze Kanadier – Nachkommen versklavter Westafrikaner, die während des atlantischen Sklavenhandels in die Vereinigten Staaten, die Karibik und Südamerika gebracht wurden.
Jeder ist herzlich eingeladen, seine eigenen Speisen und Getränke (keine Gläser/Alkohol) mitzubringen oder Sie können Essen und Getränke beim Picknick gegen eine Spende erhalten. Afroamerikanische/karibische Grillgerichte.
"Wir haben separate Grills für Schweinefleisch und vegane Speisen."! Das Essen ist 100% original!
Wir haben ein sehr schönes familienorientiertes Programm mit Live-Musik, DJ´s und originellen kulturellen Speisen und Spielen. Strand Celebration ab 20.00h. Amapiano, Afro-Beats, House, RnB, Hip Hop
Wir bitten unsere Gäste, Ihre Tickets im Voraus online zu bezahlen, wir werden die Essenskäufe auf der Grundlage der tatsächlichen ersten 400 Online-Ticketverkäufe tätigen. Diese Gäste erhalten Event-Armbänder und haben garantierten Zugang zu allen Juneteenth-Essensverkäufen. Aktivitäten und Unterhaltung.
Strandbad Plötzensee-Gäste, die Tickets vor Ort kaufen, dürfen erst dann Essen an den Juneteenth-Ständen kaufen, wenn Online-Ticketkäufer bedient wurden. Sie können nicht aktiv an anderen Juneteenth-Aktivitäten als Schwimmen und der Beach Party teilnehmen. Diese Entscheidung ist auf die hohen Kosten für Lebensmittel und Arbeit zurückzuführen. Es wird dort andere Essensverkäufer vom See geben, aber keine, die mit unserem Essensstil in Verbindung gebracht werden. Dies ist eine 100% gemeinnützige Veranstaltung.
Spiele:
• Hufeisen
• Mais-Loch (Corn Hole)
• Tauziehen
• 3-beiniges Rennen
• Kartoffelsackhüpfen
• Limbo-Wettbewerb
• Löffel- und Eierrennen
• NFL Football Kick & Wurf
• Fußball Ball Tor Kick
**Wassermelonen-Esswettbewerb
Unser Grillmenü:
Südliche (USA) geräucherte BBQ Rippchen
Spicy Creole Burgers
Cajun Hühnchen / Chicken Wings
New York Hot Dogs
gegrilltes Gemüse
Beilagen: Kartoffelsalat, Cole Slaw, Makkaroni & Käse, Wassermelonenscheiben
Nachtisch: Red Velvet Cake Cupcakes mit Frischkäse und Schokoladen-Erdbeer-Brownies.
Getränke: Wassermelone / Erdbeermatsch, Weiß- und Roséwein, Bier und Wasser. Alkoholfrei ist ebenfalls enthalten.
Diese Veranstaltung wird für den gemeinnützigen Verein Afro-Diasporians e.V.i.G koordiniert.
Kontakt: berlinmusic@hotmail.com