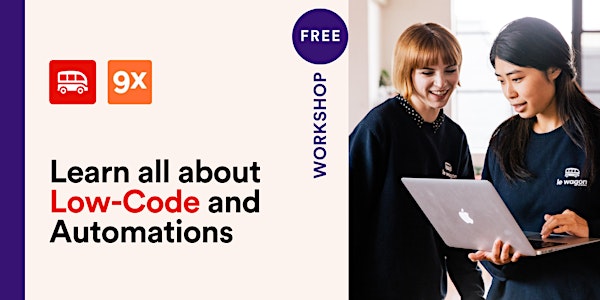 Jump on the No-Code Train: Learn all about No-Code, Low-Code and Automation
This is an in-person workshop in Partnership with 9x! Learn all about the No-Code / Low-Code side of things.
When and where
Location
Le Wagon Berlin Coding Bootcamp Rudi-Dutschke-Straße 26 10969 Berlin Germany
About this event
This is an in-person workshop in partnership with 9x!
Discover the potential of No-Code and Low-Code. After an introduction to the world of No-Code, you will learn about the different types of No-Code tools, their particularities, and how to pick the right stack to build what you want.
Then we will have 3 demos:
- How to build a simple web-app with login and CRUD capabilities within 15 minutes
- How to create backend logic in No-Code
- How to add a new feature to a Bubble app
We'll end the session with a discussion on more advanced topics and Q&A.
⚙️About this workshop⚙️
This workshop focuses on No-Code, Low-Code and Automations. You will learn about tools that can help you build technical capabilities without having to worry about infrastructure (hosting, deploying, etc.) and without or with little code to write.
✨In this workshop you will learn✨
✨ Discover the current landscape of no-code tools
✨ [ LIVE DEMO: Airtable & Softr ] How to build a web app in 15 minutes
✨ [ LIVE DEMO: Make.com ] How to create a backend logic
✨ [ LIVE DEMO: Bubble ] How to add a new feature to a Bubble app
💻In Collaboration with 9x 💻
9x helps operators in fast growing companies digitize and automate their business processes. We do this by leveraging the power of No-Code and Low-Code platforms.
Meet your Teacher
Pierre-Yves Garcia is the co-founder of 9x. He is a French Business generalist who spent 7 years working for Startups (in Germany). Pierre-Yves discovered the No-Code / Low-Code world during his last employment at Smunch, mostly automating internal operational processes and building prototypes. This is when he fell into the rabbit hole!
After 2 years at Smunch he decided to found 9x with Alexander to help other fast growing companies scale their business without scaling their costs/team/manual with an automation-first approach.
Everything he knows about Web Technologies he learned from developer friends of his or on the Internet.
His favorite stack? Airtable, Make (formerly Integromat), JavaScript and SQL!
🚀This workshop is brought to you by the #1 rated coding bootcamp worldwide🚀
Le Wagon emerged in 2014 as one of the first tech bootcamps in France, offering web development and data science programs. Now, it has grown to a robust global community of tech talents with 45 Le Wagon campuses in Amsterdam, Berlin, Lisbon, London, Melbourne, Mexico, Montreal, Singapore, São Paulo, Paris, Tel Aviv, and other cities worldwide.
With this expansion, Le Wagon has helped over 15,000 developers, data scientists, designers, and entrepreneurs start their new careers in tech. Eight years on, the school continues to inspire tech aspirants to find their path in the industry.