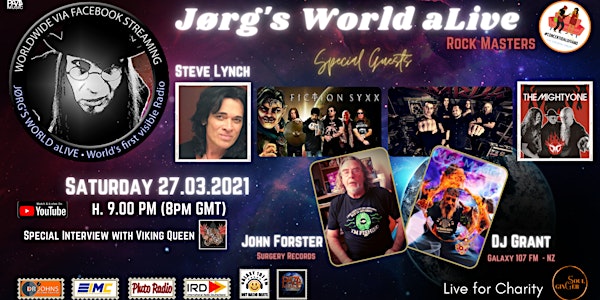 Jørg's Word aLive ROCK MASTERS
The Stars of "Jørg's World Radioshow" in a LiveStreaming Concert!
About this event
This time it will be a metal show. You will see original videos, a live interview and a special video concert exclusive for Jørg's World aLive. My guests will be GEIR MIRANDA - Viking Queen (Norway), TIM STEINRUCK - The Mighty One (Canada), RICK BOWMAN - Martyr (Dutchland) and MARK LANOUE - Fiction Syxx (U.S.A.) and as a very special honoured Guest we have STEVE LYNCH, the former Guitar Player of AUTOGRAPH!!!
You can't see them live at the moment - so I bring them to your home on the screen! Don't you miss it!