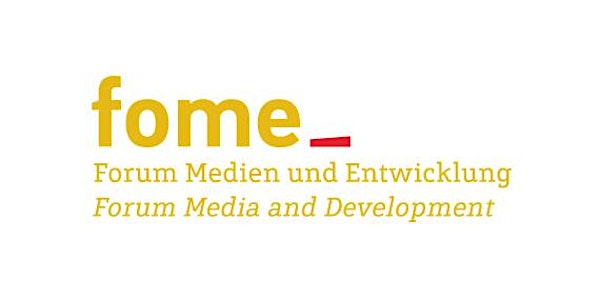 Jour Fixe 2016: Exile Media – Between Journalism and Activism
Veranstaltungsort
Landesvertretung Sachsen-Anhalt
Luisenstraße 18
10117 Berlin
Germany
Beschreibung
From the Azerbaijani Meydan TV to Syrian citizen journalists and internet dissidents from Sri Lanka: there are dozens of exile media outlets in Germany, which engage in all kinds of ways with the public discourse in their countries of origin. Yet, little is known about their activities.

How journalistic is the information provided by the activists? Does the confrontational production of news contribute to the resolution of conflicts or rather to their escalation? How can media development, human rights and media policies support such refugee programmes?

This will be discussed at the annual Jour Fixe of the "Forum Medien und Entwicklung" (FoME) on Thursday, May 12th, from 2pm to 6pm in Berlin
We have invited exile journalists like Simon Biniam, the editor in chief of the Eritrean exile radio "Erena", Emin Mili from Berlin-based Meydan TV, the convener of Journalists for Democracy in Sri Lanka (JDS) Bashana Abeywardane, Maryia Sadouskaya-Komlach, who worked with the European Radio for Belarus, the co-founder of "Raqqa is being slaughtered silently" Abdalaziz Alhamza and many more.
Journalist and media expert Gemma Pörzgen will facilitate the meeting. The key note will be given by Stephan Steinlein, state secretary oft he German foreign office.
We also welcome researchers and practitioners, donors and civil society members to discuss lessons learned and possible ways forward.
The aim of the Jour Fixe is to share experiences of working in exile, discuss recent developments and perspectives especially for exile journalists in Germany.
FoME is a network of institutions and individuals active in media development cooperation. It serves as the German platform for the exchange of experiences, research and further elaboration of concepts. It facilitates the dialogue between media practitioners, development politics and the scientific community.

The event is co-hosted by the German section of Reporters Without Borders and Media in Cooperation and Transition (MiCT).
It will take place at the Permanent Representation of the State of Sachsen-Anhalt (Vertretung des Landes Sachsen-Anhalt beim Bund), Luisenstraße 18, 10117 Berlin.
An evening reception will be held afterwards at MiCT's office, Brunnenstr. 9, 10119 Berlin.