Joe Walsh about current challenges for the GOP, Trump and post-election USA
Joe Walsh was a loyal Trump-Supporter - he has come around and is now one of the biggest critics of the former President.
About this event
Former GOP primary-challenger of Donald Trump, former Congressman from Illinois, and now former Republican, Tea Party-Libertarian leaning conservative radio-host Joe Walsh has come around. In October of 2016, he tweeted that he would be "grabbing my musket" if Republican presidential nominee Donald Trump loses the Nov. 8 election. Today his views have changed, and he has become a stark critic of former President Trump, describing him as "unfit" and saying that Trump´ s GOP has become a "cult".
On February 2nd, 2021 he tweeted: "A college student today asked me what these past few years taught me. 1. Put your country first. Even if it costs you your seat in Congress. Even if it costs you your syndicated radio show. Country before party. 2. Own your mistakes & say you're sorry. 3. Black lives do matter."
Also: "Get out of your political bubble. Listen. Learn. Teach. Apologize. It's time for honest, respectful, difficult, uncomfortable conversations."
We will follow this suggestion, and it is our honor to invite you for a Zoom-session with the former Congressman to discuss the current state of the GOP, post-election America and, obviously, the second Trump impeachment.
Also you may want to take a look at Joe´ s book released last year "F*ck Silence: Calling Trump Out for the Cultish, Moronic, Authoritarian Con Man He Is".
About the book (quoted from Amazon): "Joe Walsh is as rock-ribbed a conservative as they come. But he believes that no right-wing policy victory is worth the loss of our very democracy.
In this clear-eyed and unsparing book, Walsh makes the case that Trump has more in common with the foreign dictators he praises publicly than a predecessor like Ronald Reagan. Trump is an existential threat to conservatism, the presidency, and national unity. He has violated the Constitution in plain sight, assaulted democratic institutions, overwhelmed the country with disinformation, erected around himself a cult of personality, and governed according to his narcissism more than any discernable political philosophy.
Though Walsh agrees with Trump that the Washington elite has hung working-class America out to dry, traveling down the road to despotism is no response. And now a person who places himself above the rule of law and accountability sits in the Oval Office—all that's missing is a big, beautiful throne behind the Resolute Desk.
In F*ck Silence, Walsh challenges his countrymen, especially his fellow conservatives, to acknowledge and oppose this unpatriotic and un-American behavior before we give away what made America great in the first place: our democracy."
https://www.amazon.de/Silence-Calling-Cultish-Moronic-Authoritarian/dp/006301002X/ref=sr_1_1?__mk_de_DE=%C3%85M%C3%85%C5%BD%C3%95%C3%91&dchild=1&keywords=fck+silence&qid=1612264894&sr=8-1You can find more about Joe Walsh here: https://en.wikipedia.org/wiki/Joe_Walsh_(American_politician)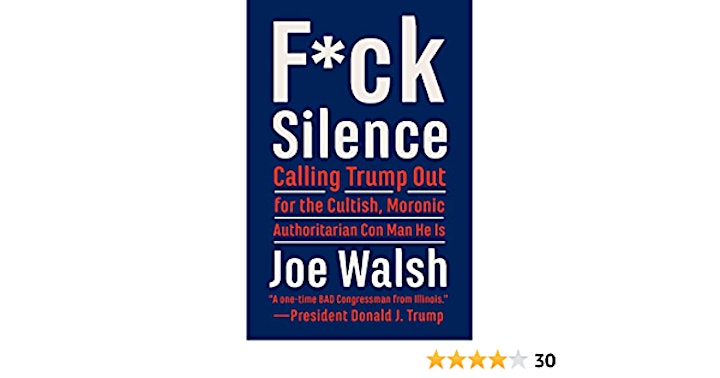 Organizer of Joe Walsh about current challenges for the GOP, Trump and post-election USA
The Club seeks to enhance the professional and social relations between American nationals, companies, organizations, and residents of Hamburg and Northern Germany. In pursuit of this, the Club's activities are focused on the promotion of social, commercial, cultural and educational ties and the enhancement of the American-German friendship. Furthermore, the Club serves as a forum for intellectual exchange among Americans, Germans, and foreign residents in greater Hamburg.