Eventinformationen
Veranstaltungsort
DoT Academy
Viale Sarca 78
20125 Mailand
Italy
Rückerstattungsrichtlinien
Rückerstattungsrichtlinien
Rückerstattungen bis zu 7 Tage vor dem Event
Beschreibung
Join this interactive one-day Jobs to Be Done (JTBD) Jumpstart workshop to learn everything to apply this most innovative way of defining customer needs. Apply this new needs discovery practice to your innovation, product development, and marketing efforts.
Why should I join?
You will learn how to systematically identify the conditions under which people switch lastingly to a new product or service. These insights are essential when updrading an existing product, developing a new product, or better market, sell and provide services for existing products.
JTBD covers all aspects that are causal to "hiring" a new solution. After the workshop you will be able to discover the most valuable customer jobs in existing and new markets and take advantage of being most knowledgeable person about customer needs.
You will be equipped with the foundational knowledge, the tools and acquire the skills necessary to getting started.
What kind of customer job insights can be obtained?
Why consumers and people in businesses buy product, dimensions of jobs, product "hire" criteria, trade-offs, causal events, constraints, opportunities for innovations, and more.
Check out these examples The Wheel of Progress Examples
What tools will I get?
As the foundation, we will use The Wheel of Progress, an all-in-one customer jobs "canvas" that helps you to portrait all necessary elements of a customer job and summarize a job in a Desire for Progress Statement.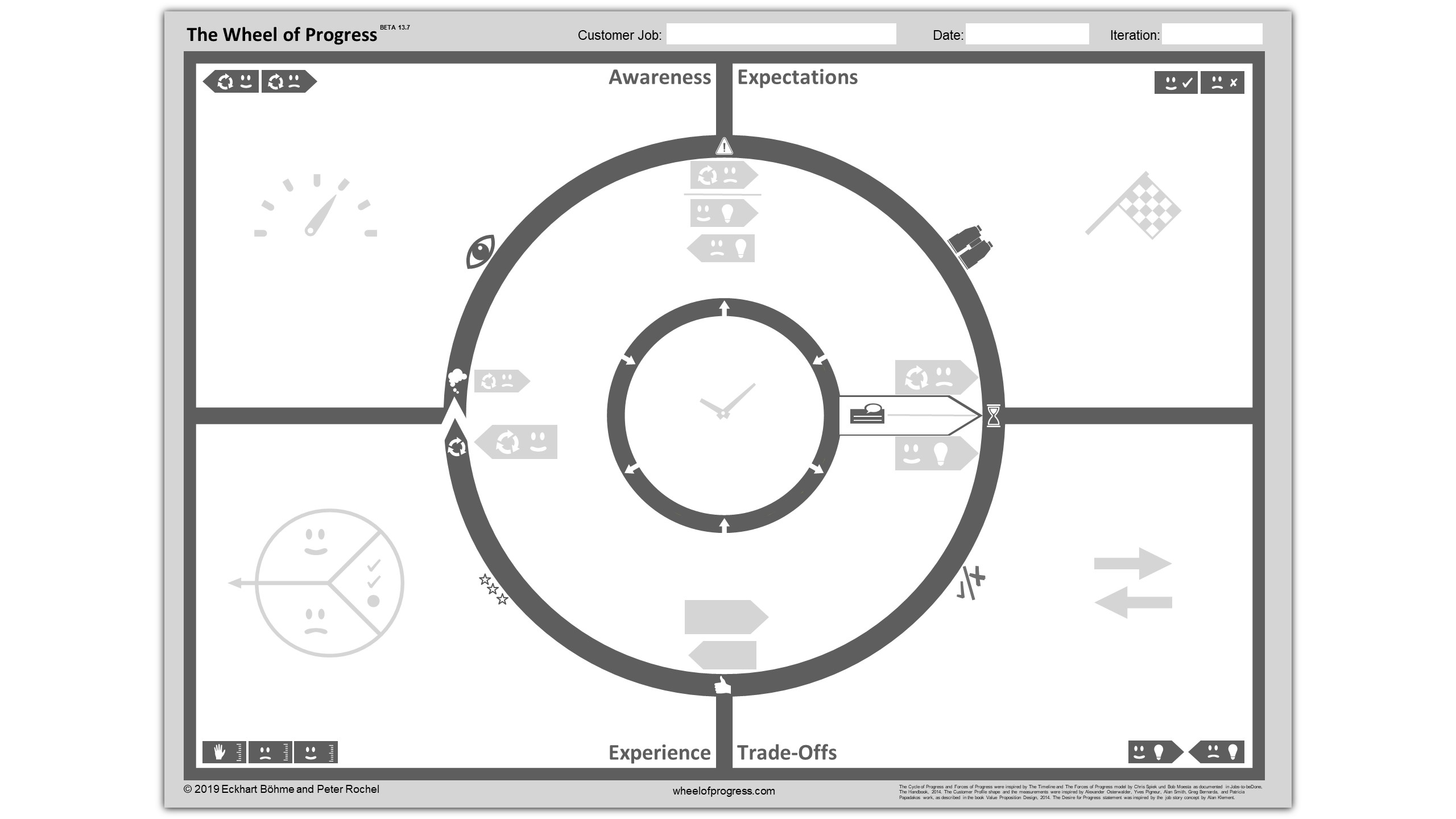 For learning and practicing how to interview customers, you will receive a copy of the JTBD card set, developed by Jonathan Briggs.

How does the agenda look like?
Module 1

Welcome and warm-up
Foundation of the Jobs to Be Done theory
The elements of a customer job
Module 2
Introduction of The Wheel of Progress
Describing the expected outcome
Desire for Progress Statement
Module 3
The JTBD interview process and best practices
The JTBD interview cards
Practicing interviews
Observing an interview of a live customer
Module 4
Evaluating a customer interview
Pattern recognition and prioritization of jobs
A best practices framework for driving the customer jobs creation process
Who should participate?
People involved in product/service definition, management and marketing: Chief Innovation Officer, Product Manager, Market Research experts, UX designers, Product Marketers, etc.
What's included in the price?
Workbook
A copy of The Wheel of Progress tool and JTBD interview card set
Beverages
Language of instruction and workshop materials will be in English
What are the pre-requisites
Conversational English language skills
Who is the instructor?
Native German Eckhart Böhme is an experienced marketing and innovation professional. Eckhart worked for over 18 years at Microsoft in various product management and marketing roles. In his last position, at Microsoft Corporation, he managed as the Curriculum Architect the marketing training and education program. Eckhart is a blog/book author about business model innovation, lean startup and the Jobs to Be Done. He served as the subject matter experts on the German translations of Clayton Christensen's leading book on the Jobs to Be Done theory Competing Against Luck and Eric Ries' The Startup Way: How entreperneurial management transfers culture and drives growth. He operates the German Jobs to Be Done webiste jtbd.de and manages the Jobs to Be Done expert XING group.
Eckhart is one of the most experienced Jobs to Be Done practitioners in Germany. He developed and delivered the first German language open workshop in 2017 and since then trained hundreds of participants from start-ups to enterprises, led several jobs to be done research projects and coaches practitioners. He led the development of the The Wheel of Progress tool that integrates all aspects of the Jobs to Be Done theory.
Disclaimer
Reservation is on a first come, first serve basis. We reserve the right to cancel the workshop and refund the ticket fees due to an insufficient number of registered participants.
E
Datum und Uhrzeit
Veranstaltungsort
DoT Academy
Viale Sarca 78
20125 Mailand
Italy
Rückerstattungsrichtlinien
Rückerstattungen bis zu 7 Tage vor dem Event